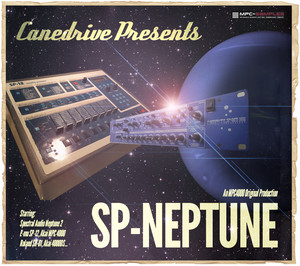 MPC-Samples has announced SP Neptune, a collection of multi-sampled synth sounds programmed, recorded and edited by UK producer and musician Canedrive.
MPC-Samples.com is very proud to announce the release of 'SP Neptune', a stunning collection of multisampled sounds generated primarily from the Spectral Audio Neptune 2 analogue synth, with an accompanying library of sounds resampled and recorded through the Emu SP-12 and the Akai 4000DS vintage tape machine for some of the richest sounding synth samples you're ever likely to hear.

SP-Neptune is a sublime combination of fat, powerful analogue synth sounds and the grit, warmth and crunch of classic vintage gear.
SP Neptune features
Bass – two powerful synth bass sounds covering 3 octaves per program (6 notes per octave)
Strings – a lush string multisample program, sampled over 7 octaves using 4 notes per octave.
Lead sounds – Five rich lead sounds with each program covering 5 octaves with 4 notes per octave (5 further variants with different LFO & filter settings are included for the MPC4000/5000/Ren/Studio).
Drum Kit – a fat, ballsy and unashamedly grimy kit featuring 32 electronic, acoustic and layered drum sounds (kicks, snares, claps, hats and percussion) all thoroughly seeped in 12 bit goodness.
Sound Library – 115 original tones, wacky modulations, filter sweeps and other various short synth sounds, created using a Juno analogue synth, Akai MFC42 filter, Alesis Andromeda and resampled through the Emu SP12.
All 345 sounds are provided in 24 bit /48kHz and 16bit /44.1kHz WAV format.
Includes native MPC programs compatible with MPC Renaissance/Studio/1000/2500/5000/4000/500 and JJOS which map the multisampled instruments chromatically across your MPC pads.
The sample pack costs £17.99 GBP.
More information: MPC-Samples / SP Neptune