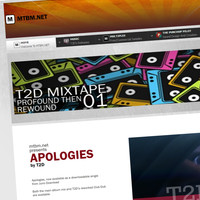 MTBM.NET has announced the launch of its new website, along with two new free sample packs.
The all new MTBM.NET has been released and it now caters for everything we do. On the new site you will find all of our existing brands rolled into on accessible area.

To celebrate the new website, we have released two new samplepacks under the Multiples brand.
New Multiples sample packs
ABass 02

– 10 bass sounds, created using the Alpha CM, Reason, Massive and Tal Uno synths, all recorded from c1-c3 (.WAV 38MB / Kontakt 55MB / Refill 13MB).

Padded Cell 03

– 50 brand new drum loops created by T2D, transposed down until they were running at their slowest tempo and then ran through Guitar Rig.
MTBM.NET has also restarted its tutorial video wing under The PunchUp Pilot banner. New videos will be available every week on how to get the best from the software used by MTBM in the studio. Furthermore, all T2D music is now available in one place and is downloadable free or via JunoDownload.
More information: Multiples