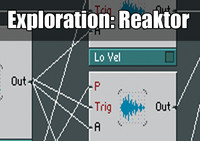 Multiples has released Exploration: Reaktor, a free collection of samples taken from a Reaktor ensemble by T2D.
For those of you who follow our twitter feed you will no doubt have heard that T2D has been working very hard making a brand new synth with Native Instruments Reaktor technology.

It is currently in the version 1 stage of development and is a 3 oscillator synth routed through a Modulation Matrix were any of 3 seperate filters can be chosen for each of the oscillators to go through.

However, as this is being developed for T2D's current record and soundscapes he is reluctant to allow the free download of the synth. He has allowed us to sample three of the current sounds he has made.

So, we have sampled them at every key from c1-c4 and then taken all three sounds and rinsed them through Guitar Rig in order to bulk out the pack.
The sample pack is available to download at no cost from Multiples.
More information: Multiples