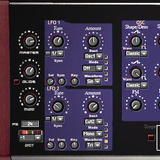 Musicrow Group has released version 2.21 of Golden Ensembles for Reaktor, a collection of 39 cutting-edge ensembles for Native Instruments Reaktor 5.
The new update for Golden Ensembles includes a new reaktor ensemble: Ebola.

Ebola is a powerful semi-modular virtual analog synthesizer with a flexible architecture, that enables you to create a wide variety of sounds with a distinct flavor!

Golden Ensembles 2 now contains 39 reaktor ensembles, synthesizer and effects.
Golden Ensembles – Ebola features
A library of 200 high quality sounds, divided into 7 sound banks.
Two multimode oscillators with Ring modulation, Sync, and Frequency modulation..
Classic mode that enables you to shape your oscillator waveform by morphing between many different waveforms.
Ultrasaw mode that uses up to 9 detuned saw-tooth waves, for the creation of extremely thick leads and pads.
Wavetable synthesis mode helps you achieving evolving and interesting pad sounds, organs and keyboards.
Sub-oscillator with ultrasaw mode.
Noise generator with color shaping option.
Two multimode resonant filters that can be connected in parallel or serial.
Three envelopes that can modulate almost any parameter of the synthesizer.
Advanced distortion section for wave-shaping: Analog saturation, Hard Clipping, Bit Crusher and more..
Two advanced LFO's.
Extended effects section that contains 9 high quality effects: Delay, Reverb, Chorus, Phaser, distortion, EQ, ring modulation and others.
Modulation matrix with countless modulation paths.
Envelope follower that enables you to use external audio to manipulate almost any parameter of the synthesizer.
Golden Ensembles for Reaktor 5 is available for 95 EUR through February 2010 (regular price 119 EUR).
More information: Musicrow Group