Mutagene has released version 1.2 of 2WarpDelay, a feedback delay featuring 2 frequency-warped lattice filters in the feedback paths.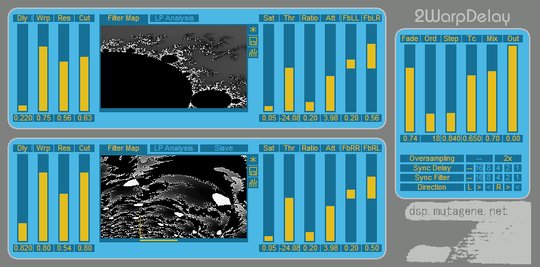 Mutagene 2WarpDelay – great for your not so typical delay effects
Changes in v1.2
Bitmap generation (random or Mandelbrot – note that Mandelbrot generation can be quite slow).
Simple bitmap processing (flip, rotate, normalize, invert, edge, etc..)
Support for non-24 bit BMPs.
Bitmaps are saved within presets (previous versions simply saved the file path for the image).
Backwards compatible with v1.0 presets, though they may sound slightly different.
Minor adjustments of signal processing algorithms (slightly different compressor, pre-delays, LP analysis mode).
Visit Mutagene for more information.