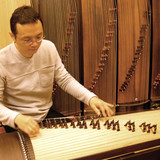 Myst Sonic has announced the release of Ryan Cheng's Guzheng Collection (Steel), the debut in the new Private Collection Series of authentic traditional Chinese instruments.
As a senior Guzheng professor, Ryan Cheng has been spending years researching and developing the best possible timber harmonic structure for the Guzheng instrument. The 21 steel string piece is one of Mr. Cheng's favorite from the collection. Steel strings Guzhengs are very rare today which makes this instrument special. It also has a unique body structure unlike other GuZhengs. Similar to high quality acoustic guitar models, steel strings need excellent timber structure to harmonize with. The sound board part of this GuZheng is made from 30 years old natural Pawlownia Elongat wood and the bodysides are made from ancient red wood.

It is basically constructed by Mr. Ryan Cheng as a technical adviser. With his help, the instrument controls is programmed in fully humanise realist feel and very easy to learn how to control.
Ryan Cheng's Guzheng (Steel) Collections features
Over 2.3 GB Library includes 3 patch sets with different styles of GuZheng 21 Steel Strings samples.

Pick style with Harmonic
Thumb style with Harmonic
Thumb+Pick style with Harmonic (thumb as left hand and pick as right hand)

Advanced round robin control, includes random play and keymap switches.
Virtual pitch bending system, simulate different kinds of string bending techniques.
Intelligent dual tremolo key system, trigger key can be used as a tremolo note.
Multi-sampled recordings include sound hole samples, L&R samples, dual pick direction samples.
Convenient controls learning definition system, assign trigger keys/controller with ease.
24bit/48Khz sample resolution, ver 2.2.1 is available.
Ryan Cheng's Guzheng Collections (Steel) is available to purchase for 67 EUR.