Native Instruments has announced the release of three new Komplete 7 bundles.
Welcome to the new world of KOMPLETE, offering a vast range of exceptional products. Maximize your sonic arsenal with the professional KOMPLETE 7 bundle or the perfect introductory bundle KOMPLETE 7 ELEMENTS.

If you are looking for an individual synth, sampler, or any specific orchestral, piano, guitar or drum sound simply choose from the many specialized KOMPLETE Instruments and Effects. The new world of KOMPLETE offers total expandability and everything a modern producer needs.
Komplete 7 bundles
KOMPLETE 7

– With 24 KOMPLETE Instruments and Effects, 10,000 sounds and 90 GB of samples, KOMPLETE 7 overflows with creative inspiration to revolutionize your productions.

KOMPLETE 7 ELEMENTS

– Packing a comprehensive selection of 2,000 production-ready sounds and 12 GB of samples, this is the perfect introduction to the world of KOMPLETE.

KOMPLETE 7 PLAYERS

– Your free entry into the world of KOMPLETE with four powerful NI audio engines, a 1 GB sound library and 450 high-quality presets and effects ready to use in the studio or on stage.
Compared to KOMPLETE 6, KOMPLETE 7 includes 17 additional products, providing you 3,000 additional sounds with 30 GB additional samples.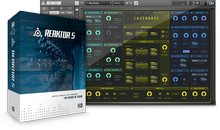 The Reaktor 5.5 update includes a number of improvements and additions to the modular studio software, making it even more flexible and powerful.
Changes in Reaktor 5.5
Fully reworked, streamlined user interface.
Two new synthesis modules: Additive & Modal synthesis.
New ensemble content: Lazerbass, Electronic Instruments 1 & 2.
Revised structure editor and audio engine.
Reworked documentation.
The release of KOMPLETE 7 introduces a number of new products which are also available seperately.

Part of the KOMPLETE instruments and effects family, VINTAGE ORGANS includes the sounds of the Hammond® B-3, C-3 and M-3 models, the Vox Continental™ II and the Farfisa® Compact, recorded in highest quality from the original instruments exclusively by Native Instruments. The Organ and Amp pages provide full control over sound through drawbars, percussion, chorus/vibrato, overdrive, rotary effect, envelopes, EQ and reverb.
Ideal for heavy room-filling riffs, super-fast attack and bone-crunching overdrive, RAMMFIRE is perfectly and directly modeled on the legendary Pre-500 Dual Rectifier Amp and recording setup of Richard Z. Kruspe (Rammstein). Designed and developed in close collaboration with the man himself, we've unlocked the secrets behind this iconic band's trademark sound.
TRAKTOR's 12 includes some of the most inspiring and contemporary sounds from TRAKTOR's arsenal – effects that have been road tested by top DJs in the world's biggest clubs. Incredible delays, reverbs, and filters join TRAKTOR's unique and hugely popular Beatmasher, Transpose Stretch and Mulholland Drive, among others, to form a powerful studio tool with true club pedigree.
REFLEKTOR represents the pinnacle of digital signal processing – a definitive convolution reverb based on the groundbreaking Zero Latency Convolution technology developed by Native Instruments. This high-performance effect provides reverb ranging from super-realistic physical rooms to fully virtual acoustics, offering in-depth modeling parameters for creating unique spaces. It can perfectly emulate the sound of high-end, expensive digital reverb units and includes specially designed content for creative sound design. Combined with some highly usable and musical innovations such as the Sync and Reverse feature, this is the ultimate reverb for every production need, from classic to creative.
Based on REAKTOR 5.5's new "Modal Bank" module, which utilizes the possibilities of physical modeling synthesis, REAKTOR PRISM produces a dynamic and pristine sound that can be dramatically modified via internal or external sources. The result is a wide-ranging synth, equally powerful for hard basses and digital leads as organic soundscapes, percussive keys, flutes and bells.
KOMPLETE 7 is now available to purchase for PC and Mac for 499 EUR / $559 USD. KOMLETE 7 ELEMENTS is 99 EUR / $119 USD, and the KOMPLETE 7 PLAYERS bundle is now available as a free download.
More information: Native Instruments