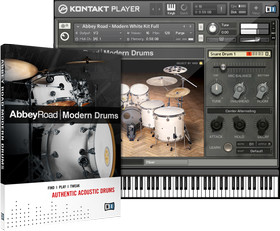 Native Instruments has announced the release of Abbey Road Modern Drums, a new instrument developed together with the iconic British recording studios.
Providing two high-end drum kits for use in the free KONTAKT PLAYER and the KONTAKT 4 sampler, ABBEY ROAD MODERN DRUMS gives musicians and producers access to expertly engineered drum sounds for contemporary music production of any genre, with the highest possible level of fidelity and authenticity.

ABBEY ROAD MODERN DRUMS complements the previous 60s, 70s and 80s installments, and is based on two renowned drum kits that are a staple of modern studio productions – a Drum Workshop Collector's Series "White Kit" and a Pearl Reference "Sparkle Kit". Further expanded with various distinctive cymbals from Sabian and Zildjian as well as three snare drum options each, both kits were recorded with painstaking precision in Abbey Road's Studio Two and Studio Three, taking full advantage of the acoustic properties of these famous recording rooms.
Abbey Road Modern Drums features
Utilizes both contemporary and vintage high-end recording equipment to achieve ultimate sound quality across all individual instruments of the kits.
Over 40,000 samples, 24-bit, 44.1 kHz.
7.2 GB library size, using the new Kontakt 4 sample compression (17.4 GB uncompressed!)
Up to 27 velocity layers for a single articulation.
Up to 6 variations of drum hits at the same velocity for added realism.
Additional compressed Mono Overhead and Mono Room samples for additional sound possibilities.
Three snare options for each kit.
Separate Right and Left hand samples for the most common Snare, Tom, and Hihat articulations.
Snare Top/Bottom and Kick In/Out samples.
Optional snare bleed samples for many drums.
Includes a selection of different MIDI mappings accommodating the established layouts of various popular
electronic drum kits and third-party drum libraries.
Highly functional user interface offers convenient control over all articulation, sound shaping, mixing and routing functions. Advanced randomization can even add subtle nuances to the tone and timing to make it virtually indistinguishable from a studio-recorded drum performance.
Abbey Road Modern Drums is available to purchase as a download and on DVD for $119 USD / 99 EUR.
More information: Native Instruments / Abbey Road Modern Drums