iZotope has introduced a new smart reverb for music making. Neoverb is an intelligent reverb that uses a real-time Reverb Assistant to help you get a great reverb for any track.
From the minds behind Ozone and Nectar, and powered by legendary Exponential Audio technology, iZotope Neoverb is the most intelligent reverb plug-in for music producers.

Neoverb gets you to an exciting starting point with a new Reverb Assistant that guides you through settings with a simple four-click process. Create exactly the space you want for vocal and instrument tracks using an intuitive Blend Pad to mix rooms, plates, chambers, and more. Shape and tame reverb using intelligent Pre and Post EQs that listen to your audio and make suggestions, helping you add depth while retaining clarity in your mix.

Whether you're a new producer honing your craft, or a veteran on your latest project, with iZotope Neoverb, you can focus on creativity and leave the trial-and-error behind.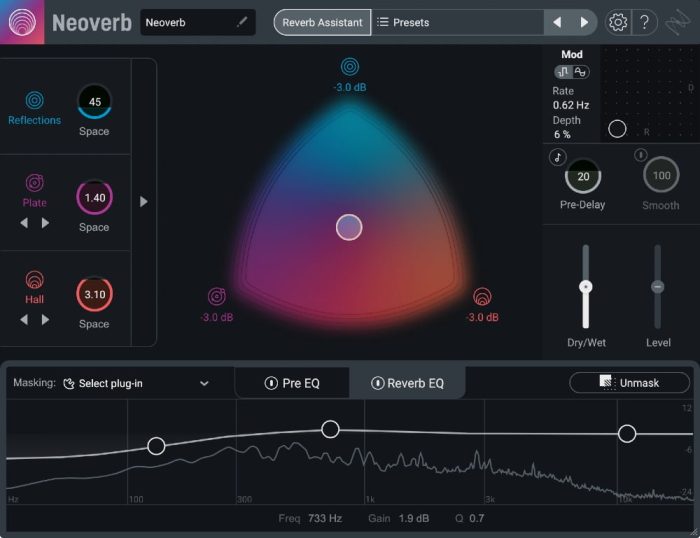 Neoverb features
Reverb Assistant: With an easy four-step assistant that adjusts iZotope Neoverb's settings in real time, users can get a great reverb for any track and create complex, customized reverbs, without spending time in menus.
Blend Pad: Visualize and mix three different types of reverbs at once to create a unique reverb tail that fits their track.
EQ Section: This feature helps clean the input signal to keep a reverb tail from overwhelming a mix, to get great reverb sound without using a long plug-in chain.
Advanced Panel: Allows users to dive as deep as they need to find the exact vibe they are looking for, while Advanced Controls set by Reverb Assistant that can be saved as unique presets for later use.
Input Smoothing: Keep dynamics even and avoid artifacts in the reverb tail with one simple control that reduces the sharp, percussive transients.
Modulation (Mod): A modulation panel that gives even more control over the reverb tail. Two different modes offer subtle modulation to avoid buildup or a classic chorus for a more pronounced mixing effect.
Resizable: Window resizability ensures Neoverb fits in any workflow and screen, meeting the demands of the modern music producer.
Presets: Includes over 100 inspiring presets created by iZotope's team of professional sound designers, including presets for vocals, guitars, experimental spaces and more.
Neoverb is on sale at iZotope and Plugin Boutique at the introductory pricing of $199 USD until November 10th, 2020 (regular $249 USD).
Owners of ANY paid iZotope product can crossgrade for $99 USD during the promotion.
Neoverb is also included in the new Music Production Suite 4 alongside Ozone 9 Advanced, Tonal Balance Control 2 , Neutron 3 Advanced , VocalSynth 2, Insight 2, Relay, Exponential Audio R4 , Exponential Audio NIMBUS , and a Groove3 One Year All-Access Pass. It is on sale for $599 USD (regular $999 USD), with upgrades starting from $199 USD.
More information: iZotope