Isotonik Studios has launched the Control Pack, a collection of three Max for Live devices designed by Noiss Coko.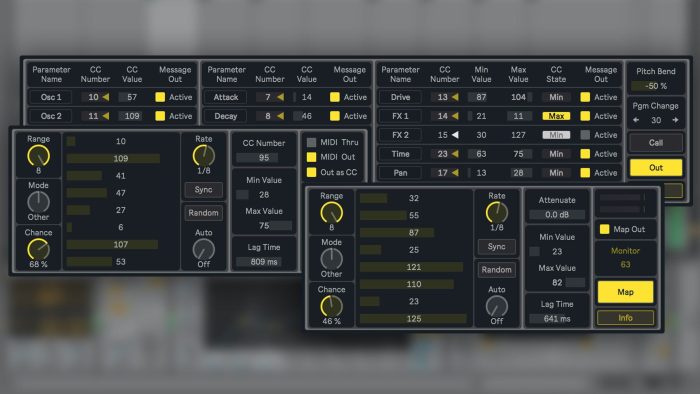 The developer of the best selling Modulation Pack is back with a pack designed to bring a new level of control and randomization over external instruments and Ableton Live parameters.
At Synthfest in Sheffield last year (we'll be back!) we lost count of the number of set ups that had awesome looking external gear on show and Ableton running in the background.
So when NOISS COKO aka Javier Salthu first sent us his Modulation Pack it included a awesome little device for controlling CC's and we could see the appeal straight away. As it didn't fit in with the audio modulation theme of the pack Javier removed it to work on it another day, and work on it he has. The video at the top of the page gives you an understanding of how it could work in your setup and we don't stop there!

Consisting of three MaxforLive Devices, CC Manager, CC Random and Random (The Audio Device Version of CC Random) this pack is designed to bring new level of control and randomisation over External Instruments and Ableton Live Parameters.
Control Pack features
CC Manager is a helpful MIDI effect, capable of sending up to eighteen MIDI Control Change messages, mainly used as modulation source for external devices such as synthesizers, drum machines, samplers, and any other instrument that enables remote control through Control Change, Program Change or Pitch Bend messages.
CC Random is a simple but versatile MIDI effect that offers a new and different approach to randomness. It generates patterns from a limited group of values, used to produce real time modulations over external devices or any parameter inside Live.
Random is the audio effect version of CC Random.
The Control Pack is available for purchase for £20.99 GBP excl. VAT.
More information: Isotonik Studios