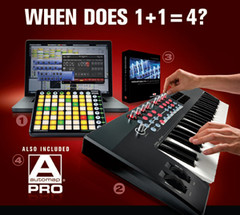 Novation has announced a special promotion for the Launchpad and Nocturn 25/49.
Novation Launchpad & Nocturn 25/49 promo
Buy a Launchpad with a Nocturn 25 or Nocturn 49, and receive both Automap Pro and the Novation FX Plug-in Suite completely free. The ultimate Ableton controller bundle just got better.
Free Automap Pro upgrade for existing Novation controller users — Upon purchase of a Launchpad, a Nocturn 25 or a Nocturn 49, Automap Pro will be given free of charge to existing owners of the Novation Nocturn or controllers in the Remote SL Mk1 range. Qualifying products: Nocturn, Remote Zero SL, Remote 25 SL, Remote 37 SL, Remote 61 SL, Remote 25 SL Compact, Remote 49 SL Compact.
Both promotions are retrospective, so will apply to customers who have already registered.
More information: Novation