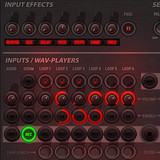 Prodyon has announced Livemachine, a unique "realtime looping sequencer" which be used to create songs, remixes and loops on the fly.
With Livemachine you can record audio, loops and drumsounds in realtime then mangle them using the huge library of onboard effects, like reverb, slicer, grainer, pitcher and much more.
Livemachine features
8 stereo recording loopers + low- and highpass combi-filters.
Reverse playback.
Variable recording lengths (up to 20 seconds per channel).
Six stereo WAV playback channels (user-loadable, disk-streaming).
Synced Drumsampler with 12 Parts and "One-Bar"-looping. (+ overdub).
Resampling of every channel in realtime.
Input effects section with reverb, delay, ringmodulation to name a few.
Built-in voice controlled synthesizer with 3 unique modes.
Built-in 16-bands stereo vocoder (WAV players/loopers act as carrier).
Two stereo audio outputs (1 Main / 1 Cue with click sound).
VU/Peak-metres for every in- and output channel + MIDI CC mapping.
Realtime click/pop-free effects operation.
MIDI learn for almost any onscreen-control.
Standalone and VST operation.
Custom coded C++ SE modules.
MIDI keyboard with at least 49 keys strongly recommended.
Livemachine will be available as a VST effect for Windows PC on December 6, 2009. It comes with a 2GB+ sample library for $129, the price for the effect alone is $99 USD. The full version (including sample library) is now available to pre-order for $65 USD.
More information: Prodyon / Livemachine