Numark has introduced the new PT01 Scratch portable turntable with DJ scratch switch that enables DJ portable turntable enthusiasts ("portablists") to play records with genuine scratch effects—anywhere.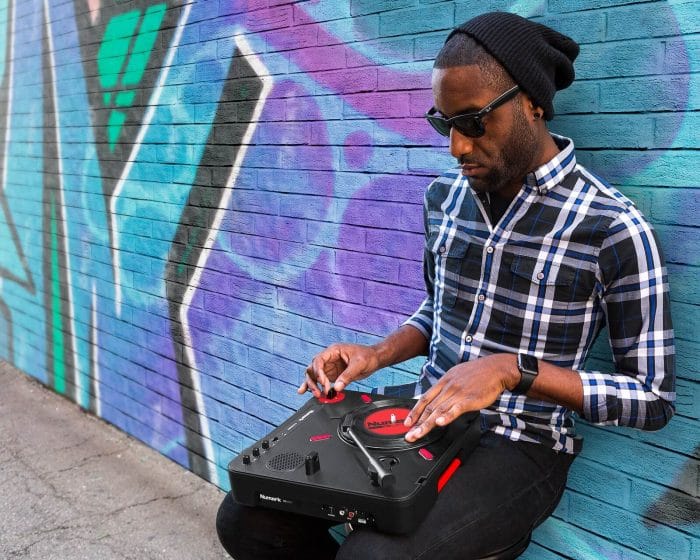 DJs love the sound they can get by scratching records, but until now, that effect was limited to indoor, traditionally-powered turntables that plug into the wall. However, with the rapidly-increasing popularity of portable battery-operated turntables, DJs are finally able to practice their art outdoors, away from the limitations of the electrical outlet.

The PT01 Scratch introduces the industry's first adjustable scratch switch on a portable turntable, enabling DJs to add their own custom scratch effects to their performance, anywhere, indoors or out. The adjustable switch easily accommodates scratching with either the left or right hand, so no matter what the DJ's style, the PT01 Scratch is simple to use.

The PT01 Scratch also features a special non-slip cartridge system, meaning the stylus stays in solid contact with the record's grooves regardless of playing angle or external vibrations, so records sound clear and sharp under virtually any condition.

"We know that DJs want to take their music outside and not be restricted to where they practice their art. That's why our portable turntable business is exploding," said Chris Roman, Sr. Product Manager for Numark. He added, "The PT01 Scratch takes the portable turntable to the next level, by being the only one to provide a real scratch switch. DJs everywhere are going to love this."
PT01 Scratch features
Built-in adjustable Scratch Switch.
Protective carrying case with integrated carrying handle.
Includes AC wall adapter or uses six "D" cells (not included).
Built-in speaker.
Cartridge included.
Removable slip-mat.
USB connection for recording to computer (free downloadable software).
33 1/3, 45 and 78 RPM settings.
RCA outputs for easy connection to other equipment.
Headphone jack for private listening.
PT01 Scratch will be available in October 2016, priced at an MSRP of £109.99 GBP. The entire line of Numark products will be on show at DJ Expo, booth #416, in Atlantic City NJ, August 15-18, 2016.
More information: Numark / PT01 Scratch