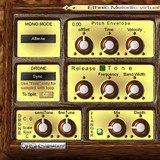 NUSofting has released version 1.40 of EMM Knagalis, an ethnic instrument sampler for Windows and Mac.
Standard ROM players often give you a few substandard "ethnic" samples as an afterthought. EMM Knagalis goes much further, taking you to the four corners of the globe. The smart architecture and the unlimited ethnic scale modes of this VST synthesizer will open you the door to the amazing sound of ethnic instruments.
Changes in EMM Knagalis v1.40
AU and VST for Mac OS X now available.
Vibrato: in the same Pitch Envelope set of knobs, you can now switch smoothly and in realtime to vibrato mode, where the "offSet" knob will adjust vibrato depth and the Time knob will adjust vibrato rate. Vibrato depth is channel pressure (aftertouch) sensitive, while Pitch Envelope is Velocity sensitive. And thanks to the MIDI learn feature any parameters can be linked to a MIDI CC.
A switch to use the two comb filters of the Flanger for acoustic filtering.
Nine new instruments, with custom presets ready to play: Northern Bagpipe, Tinwhistle, Medieval Bagpipe, Hurdy Gurdy and Hurdy Gurdy Trompette (the buzzing rhythm sound), Great Highland Pipes,
Deep Wooden Flute, the ancient Aulos (an historical double reed instrument), Spanish Gaita. This is just a small excerpt from Felyon's private Ethnic and Historical Samples Collection for Knagalis.
EMM Knagalis is now available to purchase for PC and Mac (VST/AU) for 35 USD for a limited time.
More information: NUSofting / EMM Knagalis