NUSofting has announced the release of a public beta version of its Strings Dream Synthesizer, a virtual string machine instrument.
The update is a full rewrite with a complete sound engine upgrade, and x64 VST2 compatibility.
Strings Dream is able to reproduce the infinite array of rich, analog pads from the most famous string machines in synthesizer history. Emulate the classic Eminent Solina as well as its sister keyboards from Elka, Crumar and even their Japanese cousins.

String Dream does not use samples. Instead the "octave divider" circuitry typical of those early polyphonic synths has been natively emulated, so that all sounds are computed in realtime in true VA fashion.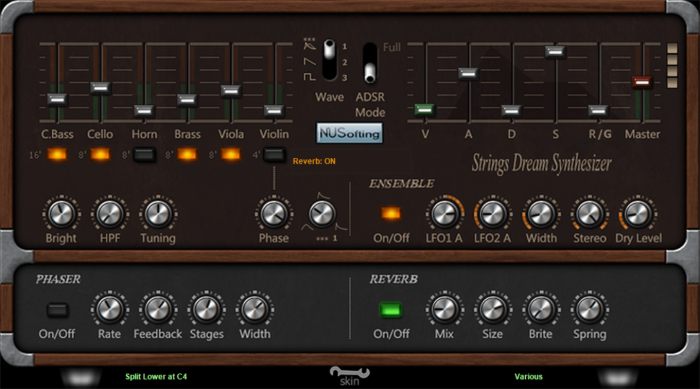 Changes in Strings Dream Synthesizer v2.0
VST2 64-bit for Windows (VST2 for Mac after this beta stage).
Brand new control for waveshape morphing.
Extra sound engine for the paraphonic mode ("Paraphony" on GUI) with new timbral characteristics, featuring "analogue pulsed noise" emulation.
The paraphonic mode allows now very different articulations compared to the standard polyphonic mode ("Polyphony" on GUI).
Redesigned filters for the voice stops, especially for the ones labeled "Brass" and "Horn".
Recalibrated relative gains of all the voice stops.
"Ensemble" chorus DSP upgraded to higher order interpolation (improved transparency and warmth).
Rewritten "Spring" algorithm for Reverb, to allow longer resonances.
Analogue Drum Kit: bonus feature: 20 of the best LoFi sounds from Drum Machines of the late Seventies.(playable using the MIDI keys above the Strings sound range).
Minor changes in the GUI and other minor bugs fixed. Larger GUI also available.
Everything that was already good in 1.x has been kept.(Presets previously made for SDS 1.x needs to be adjusted when loaded in SDS 2.0).
Currently a public beta release (SDS 2.0 beta5h) is free to download, for Windows X64 only. It has a time limit of about 15 minutes per session, and you can reload the plugin as many times you wish. Note that the presets bank is not finished yet.
More information: NUSofting