ILIO has announced the release of an otherworldly collection of dystopian and sci-fi soundscapes for the Omnisphere 2 virtual instrument from Spectrasonics.
A collaboration with Jesse Scott of Libra Rising Music, the Oblivion's Edge sound library is designed to provide sound designers and composers with a new, unexplored sonic landscape, as seductive as it is ominous.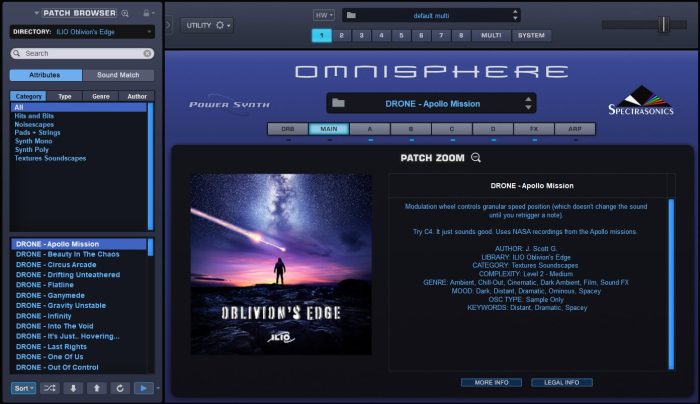 Featuring mood-setting, complex and evolving soundscapes, drones, textures, pads, hits, beds, choirs, and effects, the sound library is inspired by television shows such as Altered Carbon, Westworld, The Loop, Philip K. Dick's Electric Dreams, as well as movies such as Interstellar, Arrival, and Annihilation.
"Oblivion's Edge is my all-time favorite collection of sounds that I've ever created," says Jesse Scott.

"It's taken me my entire career of 25 years as a producer to figure out what it is that I love doing most, and this is definitely the product of that. There's an undeniable sort of transcendence with otherworldly sounds and textures which, I believe, transports the listener to alternative planes of existence (figuratively speaking). Creating these types of sounds for my own music, and for others, is something I'm very passionate about…"
Oblivion's Edge contains 101 meticulously crafted patches including:
22 Cinematic Drones.
43 Complex & Evolving Textures/Sound Beds.
12 Spaced out Sound FX.
12 Hits & Stabs.
4 Futuristic Polyphonic Synths.
4 Ethereal Pads.
4 Vox Based Sounds & Choirs.
Oblivion's Edge is available for purchase for $35 USD
More information: ILIO