Ocean Swift Synthesis has announced the release of a new hybrid instrument. Polyphenom is an additive/subtractive synthesizer with an extensive feature set and built-in effects.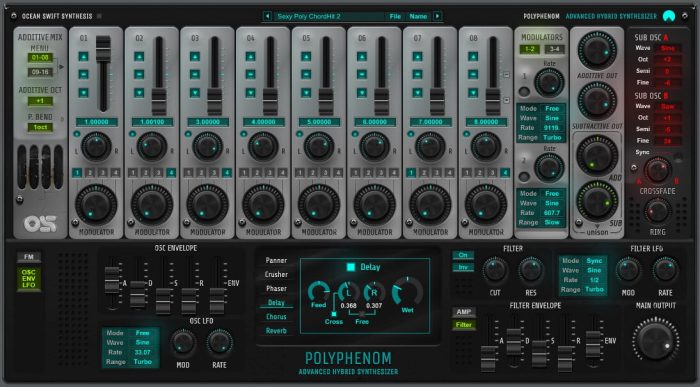 Immersive polyphonic additive-subtractive hybrid with an extensive feature set and built in effects. Hypnotize your sound with beautiful complex, dynamic and richly detailed layered polyphonic tones. Fun, unique and creative synthesis workflow – forget the tech and just tweak it!
Polyphenom features
Core synthesis chain of a harmonic oscillator with 16 clean additive partials with control over frequency, panning and modulated volume + 2 fully featured raw analog style subtractive oscillators with ring modulation. Unison and dedicated pitch modulators are there for the entire oscillator section.
Advanced clean FM on the additive harmonics with dynamic modulation on the FM signal itself.
Low pass filter with dedicated envelope and LFO modulators. The filter LFO features inverse modulation for a neat stereo filtering effect.
Dedicated LFO modulators for everything, with analog style waveforms in free rate or tempo sync mode – intuitive and versatile.
Extensive set of built-in effects that include: Panner, Crusher, Phaser, Delay, Chorus and Reverb. Sculpt a deep and polished sound.
Resizable user interface for ease of use.
Over 250 factory presets – mystical sounds at your fingertips.
Available for Windows (32/64-bit VST & Standalone), the synth plugin is on sale for 40 EUR for a limited time (regular 60 EUR).
More information: Ocean Swift