Ocean Swift Synthesis has announced an update to its Defiant WT hybrid polyphonic wavetable, additive and subtractive synthesizer instrument for Windows.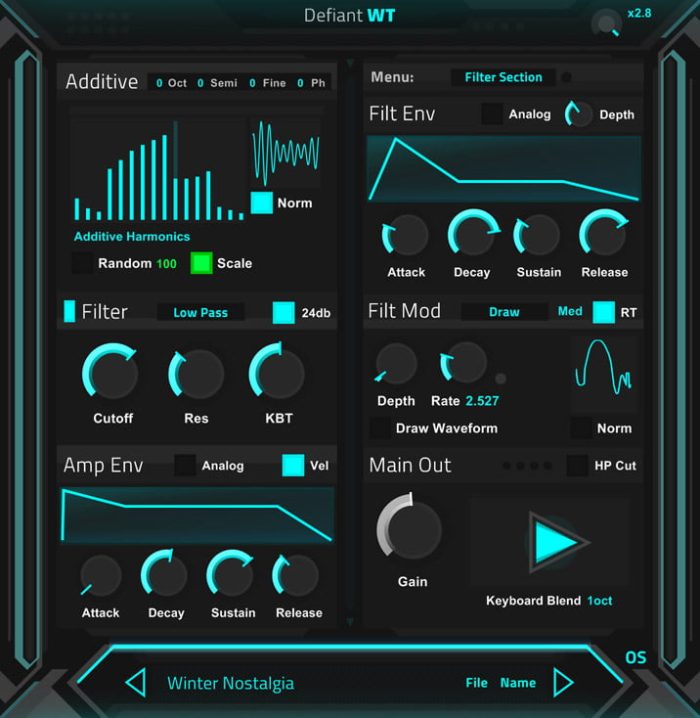 The new version comes with a new presets system and various other enhancements and fixes. New DLC presets are now available as well.
Slick and compact but packs a powerful punch and a host of advanced features. Providing wavetable, additive and subtractive synthesis in an efficiently clever design with a unique modulation arsenal, Defiant WT is creative, grungy, intuitive, fun and to the point.

Our newest 2019 update includes a new dynamic preset system as well as the ability to save and load custom wavetables with presets.
Changes in Defiant WT
New preset system.
Parameter ordering issues fixed.
Pulse width modulation not engaging issue fixed.
User can now load custom wavetables in LFOs.
Custom wavetables with oscillators and LFOs now save with presets.
Code cleanup and optimizations.
Load manual from GUI.
Load DLC and Enterprise links from GUI.
Defiant WT is a free download for 32/64 Windows (VST).
The new Algo Presets and Extended Magazine DLC preset packs are on sale for 6 EUR each (regular 12 EUR each).
More information: Ocean Swift Synthesis