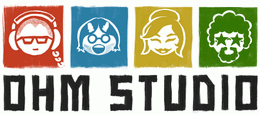 Ohm Force has announced Ohm Studio, a standalone real-time collaborative music making application (DAW/sequencer) in addition to a web based collaboration platform and a music driven online Cohmunity.
In 2000, a bunch of music geeks gathered around their computers, only to find themselves guided by a strange and mysterious power — the power of Ohm Force. It revealed to them the essence of audio processing which they used to create the now mythical Ohm plug-ins.

But they had a secret goal! This secret and long term task was to venture beyond the plug-in world and explore the other dimension of sound creation: those humanoid artists that play with computers. Thus Ohm Force, by the sweat and steel of its humble, sandwich-peddling warriors, has been laboring to conceive a new type of music workstation — one that will bring real time creative harmony to the world.

Yes, you read that right: Ohm Force is announcing the first real collaborative music workstation in the history of music production: the Ohm Studio — a project with which they aspire to redefine the meaning of online music collaboration. Yay.
Ohm Studio will feature real time collaborative MIDI/audio editing, envelopes, a piano roll, audio effects, virtual instruments, interface innovation, integrated web cohmunity, server based projects, undo/versioning and much more.
Ohm Studio is scheduled for release by the end of 2010, after a period of beta testing (starts Q3 2010).
More information: Ohm Studio