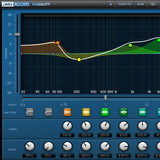 DMG Audio has released version 1.06 of EQuality, bringing RTAS support to the equalizer effect plug-in for Windows and Mac.
A heads up on the (latency) modes for the RTAS – ProTools currently doesn't support dynamic adjustment of latency, so there are two versions of the RTAS plugin that you can instance. "EQuality" (regular) is for Digital, Digital+, MinPhase modes. "EQuality (latency)" is for Analogue/Linear phase modes. Sticking to this arrangement will work you around this limitation of ProTools AND keep your latency correct. Of course, if the latency is of secondary importance, just go with EQuality regular, and enjoy.
Changes in EQuality v1.06
RTAS release.
Tweak to make high-pass filters nicer.
Fixed handling of filter slopes for automation (v1.05).
Fixed automation issue with VST3 (v1.05).
Fixed fine-control for knobs (shift-drag) (v1.05).
Fixed Autolisten to be immediate (without needing adjustment of knob) (v1.05).
Fixed handling of denormals (v1.05).
Fixed issues with Reaper/Samplitude on window resizing (v1.05).
Supports VST 64bit processing (v1.05).
Display correct positions for control-handle of bypassed bands (v1.05).
Soft-switching band bypass (v1.05).
Configurable autolisten gain (v1.05).
Autolisten ignores Q adjustments pref (v1.05).
Improvements for K-metering (v1.05).
EQuality is available to purchase as an effect plug-in for PC and Mac (VST/AU, RTAS coming) for the introductory price of 74.99 GBP until 20 April, 2010.