rv0soft (W. Vanheste) has released Sync Unit DC, a free utility plug-in for Mac and Windows.
Sync Unit is the free solution for reliably syncing hardware instruments in software based music setups. It uses audio ports instead of the latency and jitter plagued midi system to provide you with the best possible synchronization.

By default it provides a normal 24 pulses-per-quarter-note din-sync signal for Roland instruments, but 12, 48 and 96 ppqn are also available for other applications. Apart from the sample accuracy, the signal can also be shuffled in many different ways, keeping you in control over the groove and feel of your patterns.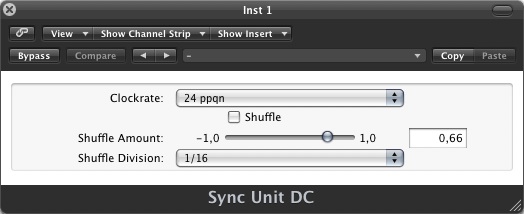 Sync Unit DC features
Tighter than ever clock generation, sample accurate, free of artifacts.
12, 24, 48 and 96 PPQN sync modes.
Built-in shuffle.
Sync Unit DC is available to download as a freeware Audio Unit instrument plug-in for Mac. A Windows VSTi beta version is available as well.
More information: Sync Unit DC