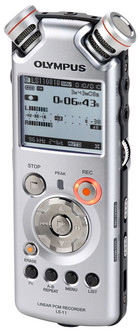 Olympus has announced the LS-11, a compact, lightweight powerhouse of audio recording.
Drawing on 40 years of experience, Olympus has put a feature-packed audio studio in one 5-ounce PCM recorder. The LS-11, with two high-sensitivity microphones and 8GB of internal memory, is the star of the show when it comes to capturing and playing back crystal clear audio, whether for personal enjoyment, hobbies, or even important business functions.
LS-11 features
24 bit/96 kHz Linear PCM Recording. Sound that's even better than what you hear on a compact disc. Every nuance of every note and syllable is captured and played back with a rich and resonant quality.
Multiple recording formats: Select from one of three standard recording formats: WAV, MP3 or WMA. The availability of three compatible formats increases the versatility of decisive, on-the-spot audio recording.
Responsive Pickup, Precision Design. Two precision condenser microphones capture all the sounds with both heightened sensitivity and reduced noise. Their 90-degree outward placement achieves a wider spectrum of sound capture. And the recorder's rigid aluminum case minimizes vibration for even extra clarity.
8 GB of internal memory, coupled with as much as 23 hours of battery life, provides many hours of uninterrupted recording. An AC adapter is also available.
An extra 32 GB of memory is available with an SD or SDHC card. Move files easily between internal and external memory.
At just over five ounces, with an easy-to-operate interface and aesthetically pleasing design, it is a true 'anywhere-anytime' portable digital recorder.
Two built-in 16mm round dynamic stereo speakers give the small wonder a wonderfully full and vibrant playback. Earphones can also be used.
A voice synchronization function enables automatic recording when sounds are detected at a pre-set level. There's auto stop, too.
Recording preferences can be fine-tuned with a Level function that's clearly displayed, along with a PEAK indicator, on the recorder's bright LCD.
Create Index marks during recording or playback in PCM mode to instantly locate specific portions of the recording that you want to hear.
With a new File Edit function, you can partially cut or divide your files.
The LS-11 will be available September 2009 for a suggested retail price of $399 USD.
More information: Olympus