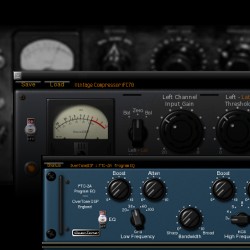 OverTone DSP announced the release of the Vintage Mastering Bundle, comprising the FC70 Fairchild 670 Limiter and PTC-2A Vintage Pultec EQ plug-ins for Windows and Mac OS X.
The PTC-2A is a superb emulation of the legendary Pultec EQP-1A, one of the most sought-after vintage equalizers. Separate LF Boost and Attenuate controls provide the signature Pultec sounds, while, as in the original hardware, a transformer-coupled tube amplifier stage further enhances the vintage qualities. Innovative filter technology provides a genuine analogue response without requiring conventional CPU-intensive techniques.

The FC70 emulates the legendary smooth, effortless dynamic control and uniquely musical character of the classic Fairchild 670 limiter. Modelled using measured data and schematics from genuine hardware, the FC70 uses a fully balanced design, combined with innovative delay-free feedback topology to emulate the original circuitry. The sidechain includes the fast attack and program dependent release settings of the original, combined with Lateral / Vertical, Independent and Linked stereo channel modes.
The bundle is available or purchase for the introductory price of £25 GBP until July 31st, 2013 (30% off individual prices).
More information: OverTone DSP