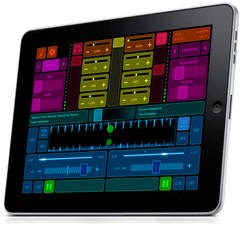 Pajamahouse Studios has released Sonorasaurus Rex, a serious mobile DJ app for Apple iPad.
Big brother to Sonorasaurus on iPhone, Rex adds exciting new features such as the BPM Tapper and beat-sensitive waveforms to facilitate your beatmatching experience. The user interface has been redesigned to make the most out of the iPad's spacious screen and to factor in the new features.
Sonorasaurus Rex features
BPM Tapper for easy BPM calculation.
Beat-highlighted waveforms to fascilitate beatmatching.
Gorgeous full-screen UI to enhance your mobile DJ experience.
Two standalone decks for playing your uploaded or bundled songs.
Dedicated effects module per each deck.
High quality Reverb, Flange, Distortion, Tremolo, Echo and Highpass effects.
Tweakable parameters for all effects.
Dual virtual LED Level meters.
Crossfader for mixing songs together to any degree you choose.
Persistent Pitch Control for adjusting playback speed (Beatmatching).
Dynamic Jog Area for dramatically and temporarily affecting pitch.
EQ and Gains for fine tuning the volume, low mid and high frequency ranges.
Built in HTTP upload interface for adding songs to your mixing library (requires local WiFi network).
Full MP3 format support including VBR and CBR (128 to 320 kbps).
AAC format support.
Bonus tracks, courtesy of Melee Beats and Service Sweden.
Sonorasaurus Rex is available to purchase from the iTunes App Store for $12.99 USD.
More information: Sonorasaurus