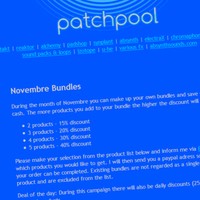 Patchpool has announced its Novembre Bundles, a chance to get a discount on custom bundles.
During the month of Novembre you can make up your own bundles and save some cash. The more products you add to your bundle the higher the discount will be:

2 products – 15% discount
3 products – 20% discount
4 products – 30% discount
5 products – 40% discount

Please make your selection from the product list below and inform me via Email, which products you would like to get. I will then send you a paypal adress so that your order can be completed. Existing bundles are not regarded as a single product and are excluded from the list.

Deal of the day: During this campaign there will also be daily discounts (25 %) on selected products.

Please note: For customers without a paypal account I can set up a dedicated paypal button on a dedicated webpage so that credit card payment will also be possible.
More information: Patchpool