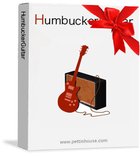 Pettinhouse has released HumbuckerFREE, a free download guitar sample library for Kontakt 2.2 or 3 direct recorded for amp simulator directly from his "BIG brother" HumbuckerGuitar.
HumbuckerFREE features 3 layers, alternated notes (UPstroke/DOWNstroke) and 2 key switches (SlideUP – Pich Harmonics). The download includes the .wav files.
Listen to an audio demos here: http://www.pettinhouse.com/HB_mp3/Metal.mp3
Visit Pettinhouse for a link to download a free copy of HumbuckerFREE.