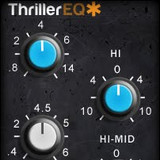 Phoenixinflight has released ThrillerEQ, a free equalizer effect plug-in for Windows.
ThrillerEQ is a VST Plugin, modeled after the GREAT RIVER HARRISON 32 EQ Equalizer. These equalizers were used in Harrison 32 Consoles, on which countless hit records were produced, including Abba, Queen and Michael Jackson. It was used by Bruce Swedien in the recording and mixing of Michael Jackson's Thriller, the best-selling album of all time!

ThrillerEQ is not an exact copy of the actual gear. Frequency distribution on the peak bands is somewhat different. Originally, Hi and Lo bands had switchable characteristics: peaking or shelving. These switches had been removed, the Hi band has a shelving filter and the Lo band a peaking one. However, besides of these minor changes almost all parameters of the plugin are the same.
ThrillerEQ features
3 Peak EQ-bands with Gain and Frequency controls (Low, Low-Mid, Hi-Mid).
Hi Shelf Band.
High- and Low-pass filters with sweepable frequency.
ThrillerEQ is available to download as a freeware VST effect plug-in for Windows PC.
More information: Phoenixinflight / ThrillerEQ