Point Blank has announced it is now admitting students to its Live Sound Engineering course running in April, July and September 2011.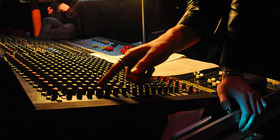 Learn to make a living in the fastest growing area of the music business…

There is no better way to learn a craft than actually doing it for real. This is the ethos behind Point Blank Music College and seems especially true of their live Sound Engineering Certificate course which gives you the opportunity to mix 6 live gigs in 6 months at various top London venues. Talk about in at the deep end…

But don't worry, it's not the ducking stool – you won't be thrown in to see if you sink or swim! The Live Sound Engineering Certificate course is a 24 week journey taught by professionals from The Barfly, Islington's 02 Academy 2 and The Garage. These are the venues that helped launch the careers of Coldplay, Kaiser Chiefs, Franz Ferdinand, The Strokes, The Gossip and many more.

As well as supervised, hands on practice at sound engineering at 6 gigs (one for each month of the course) you will be taught in detail the ins and outs of getting the most out of any PA to make the bands you mix sound hot. The 250 capacity main room at O2 Academy 2 Islington is a key venue on the London gig scene and a great place for you to learn the art of live mixing in a proper working environment. Everyone knows that live is where the music business makes its money at the moment: one of the effects of decreased record sales on the music industry has been the re-emergence of live performance as a major source of revenue for artists. This is turn has increased the need for skilled live mix engineers and Point Blank has the reputation for showing you how having won the award for 'Best Music College' six times in a row at the annual T-Scan Awards.

So there are more jobs than ever for the right candidates: get on the course now! We are now enrolling student for April, July and September 2011.
The Point Blank Live Sound Engineering courses are available at £2,690 GBP.
More information: Point Blank