Positive Grid has announced BIAS Delay Pedal, a cross-platform delay pedal that lets you quickly and easily design thousands of custom delay pedals from scratch.
It is seamlessly integrated with BIAS Pedal Delay for mobile and desktop, and you can share and download thousands of delay pedals on ToneCloud.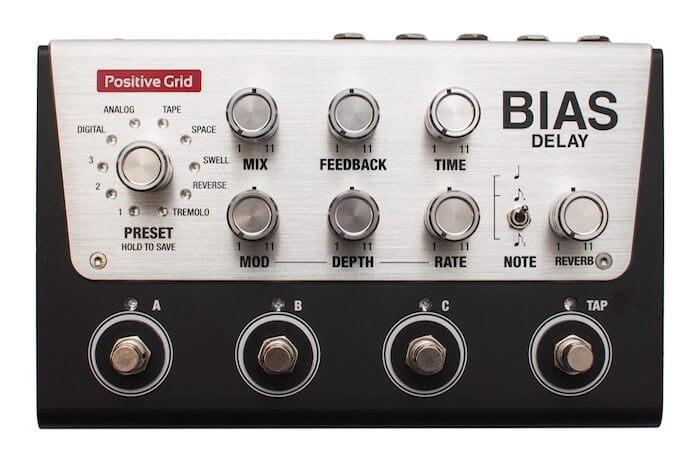 Endless delay creation
Choose among four delay types to start: Standard for pristine digital delays, Tape for saturated vintage sound, Ping Pong for cruise ship-wide echo trails, and Reverse for ear-bending backward envelopes. Manual delay times from 1 to 3000 ms dish out every kind of delay-based effect from doubling to slapback to long echoes. Sync BIAS Delay to your DAW for delay times ranging from a 32nd-note to a whole note, including dotted notes and triplets.

Custom pedal design
Design your own custom delay pedal at component level. Saturation and analog-tone controls add density and girth to the Delay Stage's input signal. Adjust your pedal's virtual power source to deliver 18 volts for a relaxed, supple sound, or 6 volts. Use the Delay Stage's treble and bass controls to shape the tone of only the delay signal from bright to midrange-y to bass-heavy. Two 8-band graphic EQs can be placed at various points along the signal chain.

Premium components
BIAS Delay Pedal uses only the finest quality components available. The road-ready metal foot switch, the circuit board, and each knob used are all top of the line. Enrich your pedal tone with the absolute best sound quality analog and digital has to offer.
BIAS Delay Pedal will be available in stores worldwide in Spring for $349 USD.
More information: Positive Grid / BIAS Delay Pedal