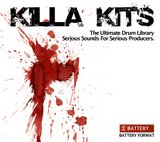 ProducerLoops.com has released Killa Kits, a collection of 6,000 drum samples formatted into 96 presets for NI Battery 3, covering genres from Rap and Hip Hop to Dance genres.
Crammed to the hilt with 6,000 samples and mapped across the whole 60 note template, this downloadable sample cd-rom is bursting with the latest cutting edge drum sounds for both Rap/Hip Hop and Dance genres.
Killa Kits features
Scratch: sliced n' diced scratch samples, chronologically mapped so as to provide you with playing realism. Unique and original and sampled live from a scratch artist.
Layered: layered drum kits, mapped and edited to provide you with the extra 'thump' and 'bottom-end' in your mixes.
Percussive: from Latin percussion to manic Tibetan Bells, from club Cowbells to Tabla drones, these kits have hundreds of pristine acoustic and synthetic percussive samples.
Hip Hop and Dance drum kits: specifically tailored for the genres. No gentle acoustic kits here, just mind numbing and spine rattling mega drums.
EFX: no drum library is complete without effects. Fancy some reverse Cowbells, or how about some electro grating sounds, or sounds from a factory? Maybe some huge resonating Toms run through an Eventide, or maybe some cricket crushed sounds, or sci-fi? They are all here.
Killa Kits is available now for £49.99 GBP. A free sample pack is available for download from the product page.
Visit ProducerLoops.com for more information and audio demos.