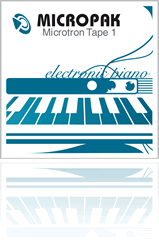 Puremagnetik has released Microtron Tape 1, a Micropak featuring the legendary Brass, 8 Voice Choir and String Section sounds of the Mellotron M400.
Microtron™ Tape 1 contains an expertly recorded Brass, 8 Voice Choir and String Section library. All of the original imperfections, vintage analog quality and performance nuances of the Mellotron M400 have been immaculately captured through a Neumann U47 Microphone and Reeves Custom 50 Amplifier.
The Ableton Live version contains 3 individual multisampled instruments and a full "tape" instrument that has similar sound blending functionality as found on the original M400. Microtron Tape 1 for Live also comes packed with 50 professionally performed Live Clips complete with Macro and effects integration.
Microtron Tape 1 for Kontakt includes all 3 multisampled instruments complete with effects and a custom KSP user interface. Logic and Kontakt versions both include a collection of 50 professionally performed Apple Loops in SIAL format.
Microtron Tape 1 is available now for Puremagnetik subscribers (subscriptions starting at $5.75 per month).
Visit Puremagnetik for more information and audio demos.