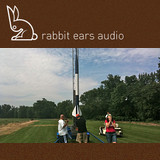 Rabbit Ears Audio has released Rockets, a sound fx sample library featuring the sounds of rockets.
Amateur rockets. When you first hear those words, an image of little Jimmy in the backyard launching a tiny rocket comes to mind. Forget little Jimmy and, instead, imagine adults building high-powered rockets in their free time and launching them in remote locations. The rockets come in all shapes, sizes, colors, and are remarkably sophisticated considering NASA is not involved in their production. From ignition, to launch, to misfire, to misadventure in mid-air, these rockets pretty much rule.

The rocket engine sizes are rated by letters. The largest rocket I saw was an "M," but there were also a lot of "J"s and "K"s. There is a tremendous diversity of sound within those rocket types. These recordings could be the basis of weapon sounds, launch sounds for vehicles, as well as many other things.
The REA001 Rockets library is available to purchase in three versions.
ROCKETS HI-RES $50 — 24 Bit 96 kHz | 113 Sounds | 227MB download.
ROCKETS STANDARD $25 — 24 Bit 48 kHz | 41 Sounds | 49.5MB download.
ROCKETS BASIC $9.00 — 16 Bit 44.1 kHz | 15 Sounds | 9.4MB download.
More information: Rabbit Ears Audio