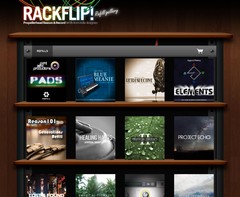 Rackflip has anounced the launch of its website, which offers Reason ReFills from various indie developers.
It's not easy finding high quality Reason ReFills that are cheese-free and aren't based on passing genres or trends. Rackflip is here to change that by serving up only the finest, most unique ReFills from the best Reason sound designers on the scene.

Rackflip just launched with 12 awesome titles from the talents of New Atlantis Audio, Jiggery-Pokery, Reason101 and Point Zero Productions. You'll find exotic percussions, vintage analog recreations, field recording adventures and a huge variety of creative sampling, synthesis and expert Reason sound craftsmanship.

There are plenty more on the way, and if you're a Reason sound designer yourself you may be able to sell your own ReFills on Rackflip! Get in touch with them through their website to find out more.
All titles are available via instant download. You can buy, download and be playing in no time.
For a limited time, Rekkerd readers can save 10% off their orders by using the code REKKERD during checkout.
More information: Rackflip