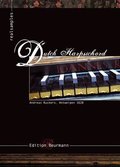 Realsamples has released Dutch Harpsichord – Edition Beurmann, a harpsichord sample library featuring nearly 3700 single samples.
The Dutch Harpsichord library offers an original harpsichord by Andreas Ruckers built in 1628. Due to its two manuals and many registers, the Ruckers harpsichord offers lots of unqiue sounds, sampled with 6 different register combinations, including the upper 8′, lower 8′ (principal 8′), tutti, both 8′ together, the 4′ register as well as the lute stop.
Dutch Harpsichord – Edition Beurmann features
6 different register combinations sampled: upper 8′, lower 8′, tutti, 2×8′, 4′ and lute stop.
Sampled registers can be combined for even more sounds.
Each register recorded with 8 different samples of each note.
Ready to play HAlion / Reason / Kontakt / Independence / MachFive / VSampler3 / EXS24 or GigaStudio presets.
Wave format (except GigaStudio version).
No mastering applied.
Recorded in 192 khz/24 bits resolution and downsampled.
License-free applicable in your music.
The Dutch Harpsichord – Edition Beurmann DVD-set is available for $139.95 USD (excl. VAT and postage).
Visit Realsamples for more information and audio demos.