The Drum Broker has launched volume 2 of MSXII Sound Design's Retro Drums series, offering another collection of straight '80s vibes.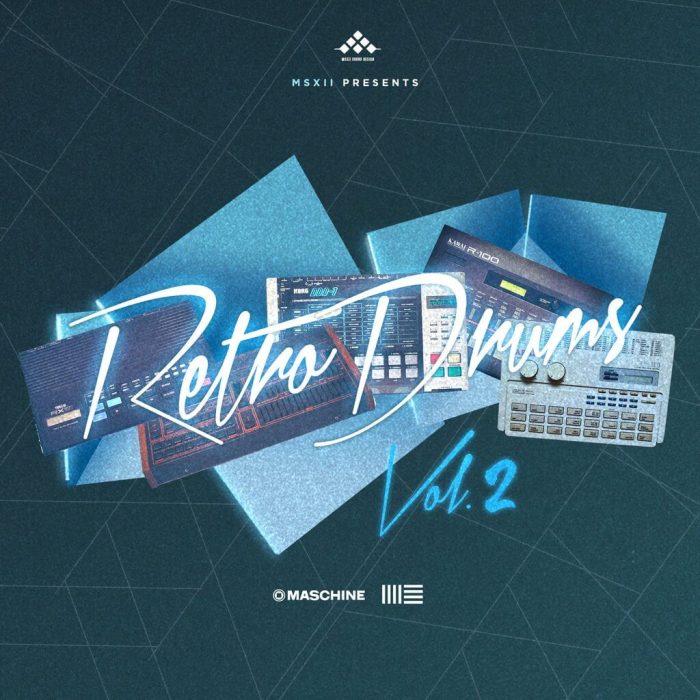 The vintage drum machines we are bringing this time include the Linn Drum LM2, Yamaha RX21, Korg DDD-1, and the Kawai R100 (all pictured in our artwork). Once again, these were further processed uniquely & true to that MSXII sound that you love and have come to know.

Painstakingly resampled with analog gear, the ASR-10 and Mirage from Ensoniq, lo-fi coloring, lush delays, easy reverbs, and crunch compression to give you the best retro drum collection you've never had! THEN, we provided the sample pre-mapped in Maschine & Ableton formats! Retro Drums 2 is ready! It's the perfect blend of yesterday, today, and the future. Purchase The MSX Audio Retro Drums 2 and get to work!
Retro Drums Vol. 2 features
64 authentic, vintage drums in 16 bit .wav format.
Drum Machines include Linn Drum LM2, Korg DDD-1, Yamaha RX21, and the Kawai R100 (pictured in artwork).
Recording chain: Lynx Aurora 8 -> Direct in for high-quality A/D conversion.
Further processed by MSXII techniques (lofi, crunchy, fouled out, pushed levels etc).
Samples labeled by drum machine and also formatted into Ableton & Maschine Drum Groups for easy plug & play.
Unique Ableton FX rack and custom Maschine FX macros per drum group.
Compatible with all DAWs and samplers accepting .wav format.
Retro Drums Vol. 2 is available from The Drum Broker priced at $24.99 USD.
Buy two or more MSXII Sound Design packs and use coupon MSXII30 at checkout to save 30% off.
More information: The Drum Broker / Retro Drums