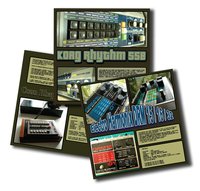 Goldbaby Productions has released another sample library featuring some sampled drum machines: Analog AutoRhythms Vol 1.
After the familiar sounds of the The Tape808, 909 and freebie 606 (all Roland TR machines), Goldbaby dug up 8 somewhat more obscure vintage drum machines to sample.
Analog AutoRhythms Vol 1 comes with a nice PDF with detailed information on each drum machine.
Conn Rhapsody Rhythm Unit

— This is a (rare) rhythm unit from a Conn Rhapsody organ. It has 22 presets and 10 sounds.

Korg Rhythm 55B

— This Roland CR competitor has some warm analog sounds. It has a stunning 96 patterns, and 10 sounds (looks like this is the version 2 model without the disco rhythms).

Electro Harmonix DRM 15 / 16 / 32

— Features the lovely space-drum and the snap sounds. The analogue sounds from these boxes are great for electro music.

Eko Ritmo 12

— The little brother of the Ritmo 20, this rhythm box has 12 preset rhythms.

Univox Micro Rhythmer

— A small little analog box with 8 preset rhythms and 5 individual sounds. I thought the Rhythmer only had a kick sound with layered hihat, but this machine does have the individual base drum sound (and snare, hi hat, open hi hat and rim shot).

Roland Rhythm 330

— The Rhythm 330 (or TR-330) has a warm analog sound. It's another organ rhythm box without the actual organ. Comes with some lovely cheesy patterns.

Hohner Rhythm 80K

— This German rhythm unit features 80 patterns and 8 sounds. It's sounds rather tame with a subby kick and modest snare sounds.

Olson X-100

— An American rhythm unit that nobody seems to know much about. The 8 individual sounds can be triggered. It sounds quite noisy and rough to me.
The nice thing about these analog drum machines is that you'll virtually never hear the exact same sound twice. Goldbaby has recorded multiple samples of each drum sound to give you the same kind of analog feel.
Besides the samples you also get tons of the presets in REX format so you can play the rhythms as if you have the real thing.
So what do I think?
I realize these type of samples are not everyone's cup of tea (Zak, do not buy this!), but if you're into vintage analog drum machine sounds, you're going to like this one.
Since it's a Goldbaby library you can also be sure the quality is top notch and the price is right: $24 USD for Guru, $19 USD for the Wav & Rex Pack.
More information: Goldbaby Productions