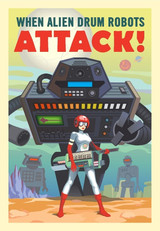 After releasing three synthesizer based titles consecutively, Goldbaby returns with another drum sample library: When Alien Drum Robots Attack!
When Alien Drum Robots Attack! features a large number of high quality samples. Kind of what you would expect from a Goldbaby library. But this time it's not just about classic drum machines, or tape, the UBK Fatso, or vinyl. It's all that, and more:
WHAT WAS USED TO MAKE IT? Everything in Goldbaby's studio and more! Using a studio full of vintage and new drum machines, samplers, synths, rack effects, vinyl, tape, real drums and perc, field recordings… this product will give you a huge palette of super solid drums and sweet FX.
When Alien Drum Robots Attack! features
1,516 x 24 bit samples.
60 REX loops, 40 Battery 3 kits, 40 Guru bundles.
65 EXS-24 patches (are in all the format downloads except the Refill).
ReFill includes 40 combinators, 40 ReDrum patches, and 8 x NN-XT patches.
Here's a little demonstration of some of the sounds from the included kits. In the video I am using the FXpansion Guru version which comes with 40 bundles; perfect for showing off what these Alien Drum Robots are up to.
So what do I think?
Product
: When Alien Drum Robots Attack! by Goldbaby Productions
Format
: 24bit WAV, ReFill, EXS-24/Guru/Battery 3
Price
: $39 USD (includes all formats)
The title of this library might sound a little silly but it does describe the content pretty well. Robotic vocoder type sounds, fx from outer space, fat ready-to-rumble drum hits… the attack is on!
When Alien Drum Robots Attack! includes lots of unique material. The processed drum samples (including 808/909 UBK Fatso) sound fat in that familiar Goldbaby way, just the way I like them. The sound quality is outstanding as well, as per usual.
After various drum machine libraries featuring samples processed with things like tape, vinyl, and the UBK Fatso, Goldbaby once again manages to create something fresh and exciting from sound sources that one might think were long exhausted. Can't wait to see what's next.
More information: Goldbaby Productions / When Alien Drum Robots Attack!