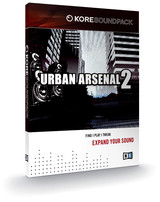 Native Instruments has released another KORE SoundPack, Urban Arsenal 2.
URBAN ARSENAL 2 brings yet more of the beats, samples, sounds and loops for creating the freshest urban music productions. Perfectly complimenting the first soundpack, this pack restocks the arsenal with over 1,000 new drum sounds, and and even more groove construction kits, synths, basses, pads and samples provided by professional beat scientists.
Urban Arsenal 2 features
29 drum kits with 40 groove sets and over 15,000 groove variations.
87 new Massive patches, with leads, basses and pads that have been tweaked and treated to give that heavy production-ready sound right out of the box.
80 newly sampled Kontakt instruments, with a focus on the analog synths, layered acoustic instruments and drum machines currently used on the freshest hip-hop joints.
The product page also mentions that several of these instruments were cut to dubplate and resampled for that extra-warm and soulful vinyl sound. Sounds familiar? Perhaps an idea of Goldbaby, one of the content providers for Urban Arsenal 2, alongside ProjectSAM, CLP, Dobie and Montana Beats.
The SoundPack includes a total of 236 sounds in a little over 1 GB content.
Urban Arsenal 2 is available as a download from the Native Instruments online shop for $119 USD / 99 EUR.
So what do I think?
I am not totally familiar with what is and what is not urban music, but my best guess is that it's a bit of a mixture of contemporary hip-hop, rap and R&B. Urban Arsenal 2 certainly includes tons of suitable sounds for those genres, but I would say it's not limited to just that type of music.
The instruments sound great and there's plenty of variety in leads, bass, strings etc. I really enjoyed the drum kits and groove sets. Instant grooves, tons of 'em! Some of the grooves are almost complete tracks, all you need is an MC. But don't mistake these grooves for loops, they are actually sequenced single shot sounds in Kontakt. If you want to construct your own beats you have all the single shot sounds right there at your fingertips as well.
Urban Arsenal 2 provides a complete collection of instruments and grooves to create urban tracks, and more. Just have listen to the demo tracks on the product page, and make sure to check the video of CLP and KOVAS building a track with this SoundPack, it's that easy.
KORE just keeps getting better!
Visit Native Instruments for more information.
If you have any questions about this SoundPack, just post them in the comments.