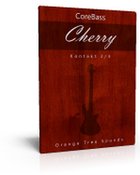 Orange Tree Samples may be a relatively new name in town, but founder Greg Schlaepfer certainly isn't new to the game.
Greg has worked on ManyGuitar and ManyBass, as well as individual Manytone Music sample sets such as the Ultimate Bass Kit, Manytone Upright Bass, and Manytone Fretless Bass.
While Manytone's products are Wusik Engine based, the CoreBass – Cherry libraries are specifically crafted for Kontakt 2/3.
Greg writes:
Kontakt has a very powerful scripting engine which lets me implement the technology that makes the sample set so playable.
Currently there are three CoreBass libraries available: Cherry, Cherry Slapped, and Cherry Picked. Each of these libraries features the sound of a Schecter Stiletto Elite with EMG Hz pickups and active EQ.
CoreBass Cherry features
523 MB (Cherry) / 1021 MB (Cherry Slapped) / 1.16 GB (Cherry Picked) of 24-bit samples.
4x intelligent round robin (no more machine gun effect!).
Sampled down to a low B.
Long, natural decay.
Release tones.
Automatic hammer-on, pull-off, slide up, slide down articulations (intelligent legato).
Automatic slap/pop articulations (Cherry Slapped), and upstroke/downstroke (Cherry Picked).
Modeled EQ to simulate the tonal change of different velocities.
Custom slides, allowing you to slide from one note to another.
The libraries are available as a digital download, with prices ranging from $49.95 USD to $69.95 USD. A bundle of all three Cherry libraries is available for $159.95 USD.
So what do I think?
Greg has made the right choice in using Kontakt for his instruments. The CoreBass samples are of outstanding quality and combined with Kontakt's KSP scripting, these bass instruments really come to life.
The various articulations are very well done (loving the slides) and each of these basses has a wonderfully realistic sound, while being easy to play or program — exactly like Orange Tree Samples intended them to be. Just check out the CoreBass audio demos to get a taste of these lovely basses.
Orange Tree Samples also shows their commitment by listening to what you want. An update to the Cherry series was already released (increased note range, custom slides etc.) and a free MIDI loop library for all three CoreBass Cherry libraries is under development.
You can even have a say in what instrument should be sampled next by casting your vote in a poll (Jaco Fretless Bass!). The next product to be released is the CoreGuitar library. The final product will feature more articulations, but you can already listen to some lovely audio clips.
All in all, I can say I'm impressed with the CoreBass instruments and I'm looking forward to seeing any of the instruments mentioned in the poll made into sampled instruments by Orange Tree Samples.
More information: Orange Tree Samples