Future Audio Workshop's brand new virtual instrument takes on the 808 and sub bass sounds that have become quite popular in various music genres such as trap, hip hop, drum and bass and future bass.
The aptly named SubLab lets you combine three sound sources to construct your bass sounds: A synth, a sample playback engine, and X-Sub, FAW's novel sub-bass oscillator.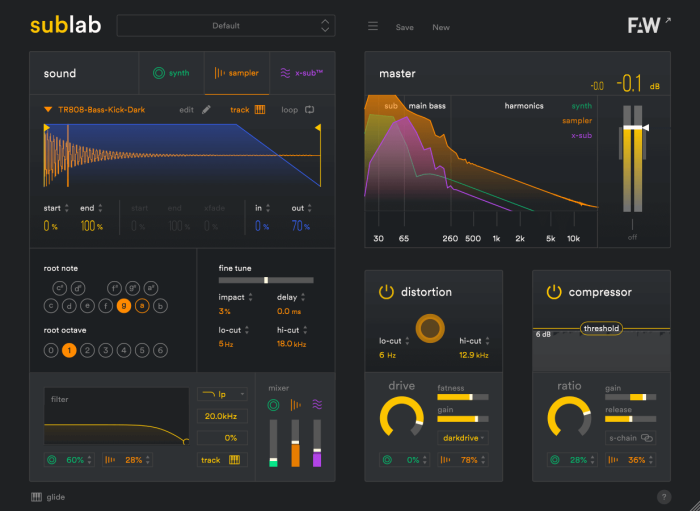 The synth section is straightforward with sine, triangle, saw and square waveforms, and ADSR envelopes for volume, filter and pitch. The sampler section comes with 250 sampled kick drums, kick transients and 808 sounds from drum machines from Roland, Jomox, Vermona, Dave Smith Instruments, Korg, Waldorf, Intellijel, and more. Want to use your own samples? Simply drag and drop it in the sampler section and your sample is automatically imported and ready for use.
You can set the start and end position of the sample playback, as well as fade in/out. When in looped mode you can use the xfade to smooth out the loop to avoid clicks. With the pitch tracking active, the sample will follow the notes you play so it's real easy to create 808 basslines. Glide options let you set the curve and glide duration (from instantly to a full bar), and it has a legato mode.
The root note of the sample is automatically detected, but you can change it manually if you desire. The sampler also has controls for fine tune, sample delay, and lo-cut and hi-cut of frequencies.
An analog modeled multimode filter (lowpass, highpass and bandpass) can be applied to both the synth and sampler sections, with individual control over the amount that is applied. The mixer lets you mix these two sound sources, alongside the X-Sub psychoacoustic sub-bass oscillator.
Split into lows (up to 65Hz) and harmonics, X-Sub is an interesting way to fatten up your sound by generating sympathetic harmonics within the sub-bass range.
On the right hand side of the interface we find the master output section. This displays the sub, main bass and harmonics of each individual sound source so you can see where different parts of your bass sound are in the frequency spectrum. Move your mouse around the display and SubLab will show the notes that go with the frequencies. The visual feedback in SubLab is great. Besides the master output level, there's also a master maximizer.
Distortion and compressor units allow you to further shape your sounds.
The distortion offers a variety of flavors with 4 included types: Darkdrive, Overdrive, Grunge and Tube. It also has lo-cut and hi-cut filters to control the post-filter distortion. The compressor is a fairly standard affair. It does however have a built in side-chain compressor which helps the kick punch through with ease.
SubLab comes with a bunch of decent presets and FAW has already announced that expansion packs will be coming soon.
The plugin comes in VST/VST3, AU and AAX formats for Windows and Mac. It is available from Plugin Boutique for the intro price of $40 USD until September 2nd.
So what do I think?
I tend to struggle a bit with my sub-bass sounds to be honest. I usually have a good idea of what kind of thing I am after, but getting it to sound the way I like is another thing.
So here's SubLab. Now this instrument puts all the ingredients you need for solid sub-bass in a single plugin, wrapped in an intuitive interface. All of a sudden shaping your 808s doesn't seem all that complicated anymore. You can get some great results from SubLab without much (or any!) additional processing or mixing.
If you often do 808-style sub-bass, I would say SubLab is definitely a plugin to check out. Unfortunately there is currently no demo version you can download, but at the $40 USD "Early Adopters" price I think it's a proper steal. Watch the video below for an overview.
More information: FAW SubLab