Tonebuilder has bundled its previously released MD Collection with Driven Machine Drums 3, a completely new collection of drum samples for electronic music.
Let me say that again, these samples are newly created for DMD3. There's NO content from the original Driven Machine Drums, the v1.5 expansion, or DMD Strikes Back libraries.
Nathaniel of Tonebuilder writes:
DMD3 + MD Collection were created over a 3 year period with exhausting attention to detail.

Created AFTER already recording and releasing DMD, DMD1.5, and DMDSB. I took the experience of each product and continued to refine and improve the methodology. DMD3, IMHO, is the best work I've done as both a sound designer and engineer.

I wanted a library which was inspiring AND fast to use while generating great results. The technical grunt work is already done leaving you to be creative.
The DMD3 library includes 2,426 samples in 9 percussion types: kicks, snares, claps, toms, real percussion, synth percussion, hihats, cymbals, and unknown electronic.
The samples were hand filtered from over 16,000 samples, recorded with mastering quality AD converters. The samples were edited with great care, allowing for perfect attacks and smooth decays.
The percussion types are further categorized into folders by texture, like analog, deep, soft, glitch, dirty, etc. With so many samples in the library, it is great to have this in-depth folder structure to find specific sounds fast.
As with previous Driven Machine Drums libraries, Nathaniel has used a wide range of sources to synthesize the samples.
From modular synths to physical modeling devices, modern & classic analog drum machines to vintage digital sources. Check out some of the gear used for Driven Machine Drums 3!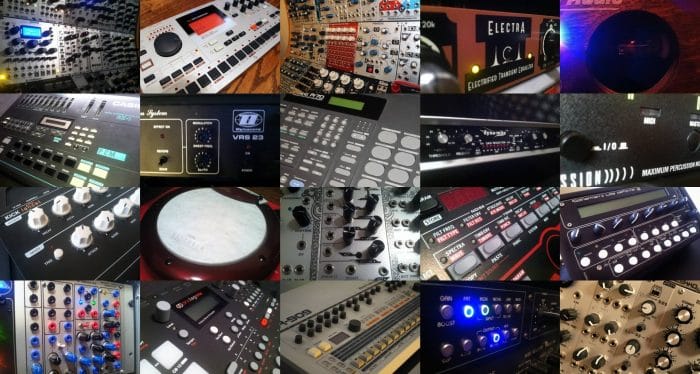 The recorded samples were processed with a variety of analog outboard gear, like compressors, filters & EQs, tubes, transformers, delays, reverbs… The amount of gear listed on the website is truly impressive.
Various techniques were used to shape the sound of the samples.
Parallel processing to ensure pure transients while boosting the body
Analog harmonics TASTEFULLY added to add warmth and depth while increasing psycho-acoustic impression of loudness
This is where a good sample library becomes a great sample library. The samples have tons of character and they are rich in texture. They sound loud, yet mixing the samples is much easier than with most other libraries.
Also included in the sample library bundle is the Driven Machine Drums M.D. Collection.
This collection of samples sourced from the Elektron Machinedrum and Roland TR-909 was first introduced in June 2013, bundled with DMD Strikes Back.
The Machinedrum combines flexible drum synthesis methods with a sampling engine. It was captured and processed with a carefully selected chain of the best analog tubes, compressors, transformers, EQ, effects, and A/D convertor/clock and cable.
Handpicked from over 8,000 recorded samples, DMDMD includes 2,733 samples in 5 machine types.
EFM = Enhanced Feedback Modulation Synthesis
PI = Acoustic Drum Modeling
TRX = Vintage Analog Character
EP12 = Classic Vintage Beatbox Character
FR909 = Classic Analog Drum Machine (TR-909)
The whole bundle of 5,159 samples is available in 24-bit/96kHz Wav & Aif, 24-bit/44.1kHz Wav, 16-bit/48kHz Wav and 16-bit/44.1kHz Wav formats. So whatever software or hardware sampler you're using, you're covered.
Also included are 202 instrument mappings for Kontakt, EXS24 (and Logic Alchemy), and Ableton. It's worth noting that with the Ableton mappings you get a macro drum selector for Drum Racks which lets you scan through every sample within a subfolder with a macro knob. Especially useful when using Push.
The 41 kits for Ableton Drum Racks, Maschine, Geist & Guru showcase the sounds of this bundle well. Sample Chains are now also included for Elektron Octatrack users.
So what do I think?
What can I say… I loved the previous DMD editions, and I think DMD3 raises the bar yet again.
I agree with Nathaniel that this is his best sample library to date. Using top notch gear, and sound design and engineering skills I can only dream of, he has created another stunning collection of drum and percussion samples.
The attention to detail – from the way the samples are recorded and processed to the meticulous categorization of the sounds, shows his passion and commitment to make quality sample libraries.
The sounds of DMD3 are great for any kind of electronic music as there is a great deal of variety in sounds, with lots of unique material. DMD3 surely tops my list of drum libraries to take on a deserted island.
The DMD3 + MD bundle is on sale for just $47 USD at ShareIt.
More information: Tonebuilder