As some of you might know I regularly enter contests at the KVR Music Cafe. Another regular there is a guy called "Echo Voodoo".
I noticed how he was using a Zoom H2 to record vocals and since I was pleasantly surprised by the quality of these recordings, I asked him how he liked this little device…
Zoom H2 Handy Recorder – my impressions (by Echo Voodoo)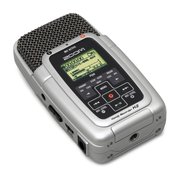 As a musical hobbiest and home recordist, I had been looking for a portable, easy-to-use, high-quality recorder for quite a while. I had been using a Sony Hi-MD minidisc recorder with an external microphone for about a year, but wasn't entirely happy with either the sound quality or the portability.
Then, in September 2007, Zoom released their H2 Handy Recorder, and all of my personal portable recording needs were answered.
The Zoom H2 is a compact digital recorder with 4 built-in microphones. It runs on 2 AA batteries, and it's small enough that it actually fits into my pocket comfortably. It's fast and easy to use – from the time you flick the power switch until you're recording audio is under 10 seconds.
You can plug an external microphone into the unit through the 1/8″ jack, but I've never done that. The internal mics are excellent. As soon as I started using the H2 for recording vocals, I received compliments on the improved sound quality compared to my previous songs. It can record in 24 bit/96 kHz WAV if you want, or to MP3, though I only use it to record 16bit/44.1kHz WAV myself.
The 4 microphones are arranged with 2 facing front and 2 facing back. The front mics are fixed in a 90 degree directivity angle, and the back mics are fixed at 120 degrees. You can record either front, back, or both at the same time. If recording with both front and back, you can either record to stereo, or have it record seperate stereo tracks for both front and back at the same time so that you have a 360 degree recording.

It records directly to an SD card. I currently use a 2GB card, which will hold a little over 3 hours of 16/44.1 audio. I've read about people using up to 8GB cards without a problem.
The H2 can stand on its own, though it isn't terribly stable unless it's on a flat surface. Fortunately, it comes with a desk stand adapter and a microphone stand adapter, both of which screw into the bottom of the unit. In fact, you can screw the unit onto any standard camera tripod, if you desire.
The H2 comes with many features that I never use. It has a built-in metronome and tuner. It can be used as a microphone for your computer through the USB port. It has compressor and limiter settings. It comes with a windscreen.
So what's not to like about the H2? Well, it's not for everyone. I've read reports that the connection for external mics is a bit noisy. The compressor and limiter work after the digital conversion, so there's really no advantage to using them versus doing the compressing and limiting in software afterwards. The MP3 encoder is reportedly not the best, and may introduce some annoying noises. And there's some question about whether the H2 has a low-enough noise floor to benefit from recording at 24/96 compared to 16/44.1.
But frankly, none of those issues have ever affected me personally. I use the internal microphones and record straight to 16/44.1 WAV files, and that's pretty much the only way I've ever intended to use it. The only issue I've ever had is handling noise. When using the internal mics, the H2 is very sensitive to handling noise. If you keep your fingers exactly in the same place and don't fidget or move them over the surface, it's okay, but any sliding on the surface of the unit will be picked up loud and clear in the recording.
Personally, I'm extremely happy with the Zoom H2, and I consider it one of the best audio-related purchases I've ever made. I've used it to record vocals, acoustic instruments (ukulele, tambourine, bongos, djembes), outdoor sounds for field-recorded samples, and family gatherings. It's easy portability and use mean that I can pull it out of my pocket, turn it on, place it on a flat surface, press the 'record' button twice, and everything is set. It's point-and-shoot audio recording at its finest.
More information: Zoom H2