Rigid Audio has announced that a beta version of its Kontakt GUI Maker (KGM) is now available for Windows.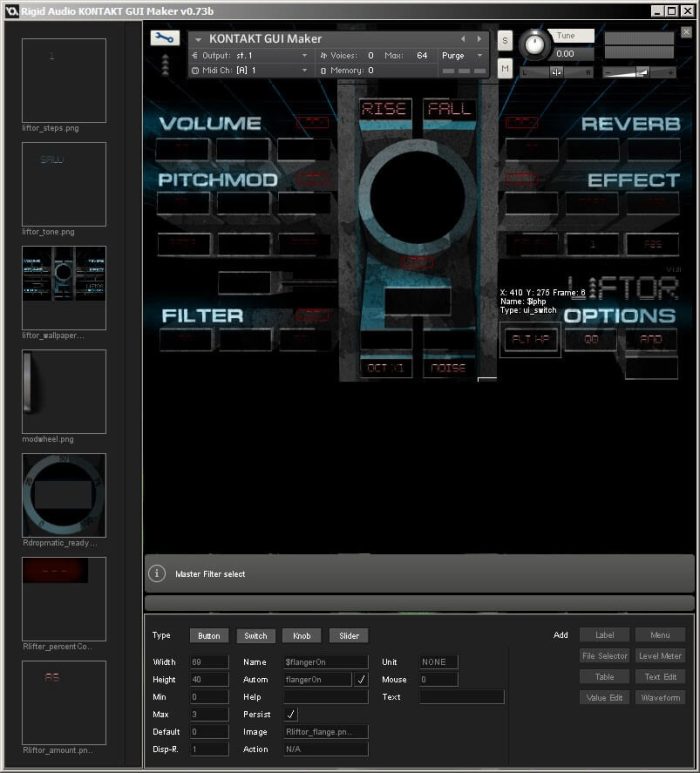 The KONTAKT GUI Maker is a new software for Native Instruments KONTAKT 5 Sampler, that helps you in the process of designing graphical user interfaces for KONTAKT instruments.

It lets you position and manipulate controls directly on the screen. Once you are done, you can export a KONTAKT-ready script file.
KGM beta features
Buttons, switches, knobs and sliders.
Manipulating width, height, min, max & default values, unit value, name, automation name, automation, help text, persistancy.
Drag and drop items from the library to the project.
Exporting to a KONTAKT-ready script file (done automatically).
Image animation preview when hovering over an item in the library.
Scrolling through image animation frames using the mouse wheel.
Green lines appear when items are aligned with each other (horizontally or vertically).
Zooming into the window for precise movement of ui elements.
UI control information when hovering over an item with the mouse.
KGM for Windows is available at a pre-order price of $49 USD (regular $99 USD). Planned features for the version 1.0 release can be found on the product page.
More information: Rigid Audio