Roland has announced the TR-08 Rhythm Composer, the latest addition to the popular Roland Boutique instrument lineup.
The TR-08 recreates the classic TR-808 drum machine, combining the sound, look, and feel of the original TR-808 with enhanced features and modern reliability. Priced at $349 USD, the TR-08 puts the legendary "808" vibe within reach of anyone who's ever dreamed of owning the iconic original.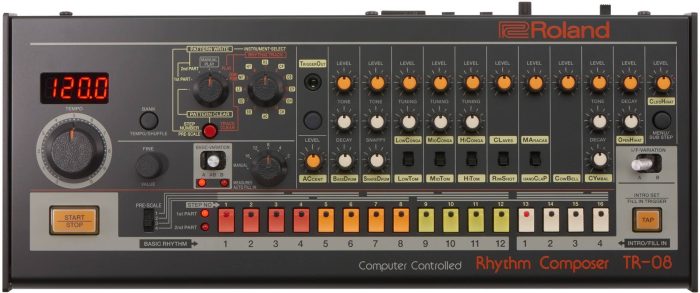 Produced by Roland in the early 1980s, the TR-808 Rhythm Composer is one of the most revered and sought-after electronic musical instruments of all time. While only modestly successful when first released, adventurous musicians and producers of the era slowly began to embrace the instrument's distinctive all-analog voice and creative hands-on interface, fueling the emergence of multiple music styles. The TR-808's sounds helped shape and define the hip-hop, electronic, and dance genres, and the instrument's vast influence on popular music continues to this day.

The TR-08 accurately recreates all the ingredients that make the TR-808 so special. Roland's Analog Circuit Behavior (ACB) technology fully realizes all the sonic details and quirks of the original hardware, modeling each analog circuit right down to the component level. And the interface, though scaled-down in size, is 100-percent authentic, with all the buttons, knobs, and switches found on the TR-808.

The TR-08 also adds some modern enhancements to the classic TR-808 formula. The sequencer has 16 sub-steps per step, enabling users to create detailed snare fills and intricate, rolling hi-hats. There's also a track-selectable trigger out for working with external instruments and modular gear. An LED display enables finer control of tempo and shuffle, and it's now possible to step-program or tap-in parts in real time without stopping to change modes. In addition, the TR-08 sends and receives MIDI control messages and supports audio and MIDI over USB.

Like all Roland Boutique modules, the TR-08 is extremely portable and runs on USB bus power or batteries. It also includes a built-in speaker for monitoring the sound in mobile situations and comes with a DK-01 Boutique Dock that allows users to adjust the panel's viewing angle.
TR-08 features
Ultra-compact recreation of the legendary TR-808 drum machine.
Retains the sound, character, and user interface of the original TR-808.
Hands-on control including tone, level, tuning, and decay.
Added Compressor, Gain, Tune, and Pan for selected instruments.
Programmable via classic Step and Tap write modes.
Sequencer has 16 steps with 16 sub-steps for detailed patterns and rolls.
Continue playing beats even while switching between write modes.
LED display for easier navigation and fine control of tempo and shuffle.
Ten separate outputs via USB audio.
Dedicated, track-selectable trigger output for controlling external instruments.
High-quality construction with metal front panel.
Highly portable for mobile music making.
Includes DK-01 Boutique Dock for multiple-angle viewing.
Battery-operated (4 x AA) or USB powered.
Built-in powered mini-speaker for instant enjoyment.
Compatible with optional Roland Boutique accessories.
Roland has also announced the SH-01A Synthesizer, a compact reproduction of the popular 1980's Roland SH-101 analog synthesizer.
The SH-01A builds on the iconic sounds and creative immediacy of the original, and adds exciting new polyphonic capabilities, inspiring new performance features, and a level of authenticity that could only come from Roland.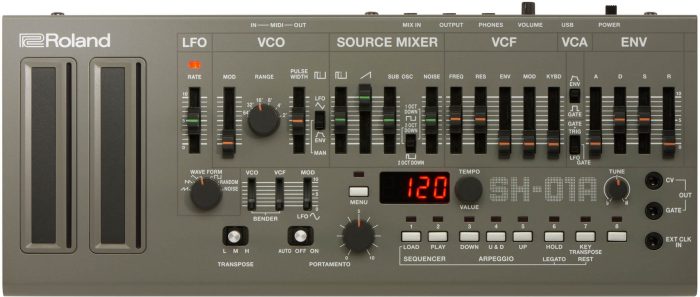 In comparison with more complex instruments available at the time, the SH-101 was a seemingly unremarkable monophonic synthesizer when first launched in 1982. However, it quickly became prized for its rich, musical sound and simple-to-program synth structure. Legions of artists found it quick and easy to create fat basses, edgy leads, and exciting sound effects with the SH-101, and these hallmark sounds continue to be revered by electronic musicians over 30 years later.

The SH-01A recreates the oscillator, filter, and envelope behaviors of the vintage SH-101 with extreme accuracy. Roland's Analog Circuit Behavior (ACB) technology fully realizes all the sonic details and quirks of the SH-101, modeling each analog circuit right down to the component level. And though scaled-down in size, the panel interface offers all the hands-on controls found on the original hardware.

Expanding on the SH-101's huge monophonic voice, the SH-01A supports four voices and four modes for more sound-creation possibilities. Mono mode produces the classic SH-101 sound, while Poly mode allows four notes to be played simultaneously, making SH-101 sounds available for pads and other chordal work. Unison mode stacks four voices for super-fat basses and leads, and Chord mode layers any four pitches together for playing in semitone steps. The SH-01A also offers 64 patch memories for storing sounds, a feature not available on the SH-101.

The SH-01A is equipped with an intuitive 100-step sequencer like the one found on the SH-101, but now adds the ability to save and recall 64 sequence patterns for any performance situation. The sequencer can also be used to control modular synths, hardware modules, and software plug-ins via CV/Gate, MIDI, and USB.

Like all Roland Boutique modules, the SH-01A is extremely portable, runs on USB bus power or batteries, and includes a built-in speaker for monitoring the sound in mobile situations. When mounted in the optional K-25m Keyboard Unit, the SH-01A can be used as a compact, all-in-one synth with 25 velocity-sensitive keys.
The SH-01A is also priced $349 USD.
Lastly, Roland has added the SP-404A Linear Wave Sampler to the AIRA series.
The SP-404A is designed for live use and offers a fast, hands-on approach. It expands the sounds of the Roland AIRA TR-8 Rhythm Performer for a combination of sample and percussive synthesis. It also functions as a portable standalone sampler with a built-in mic and battery-powered operation.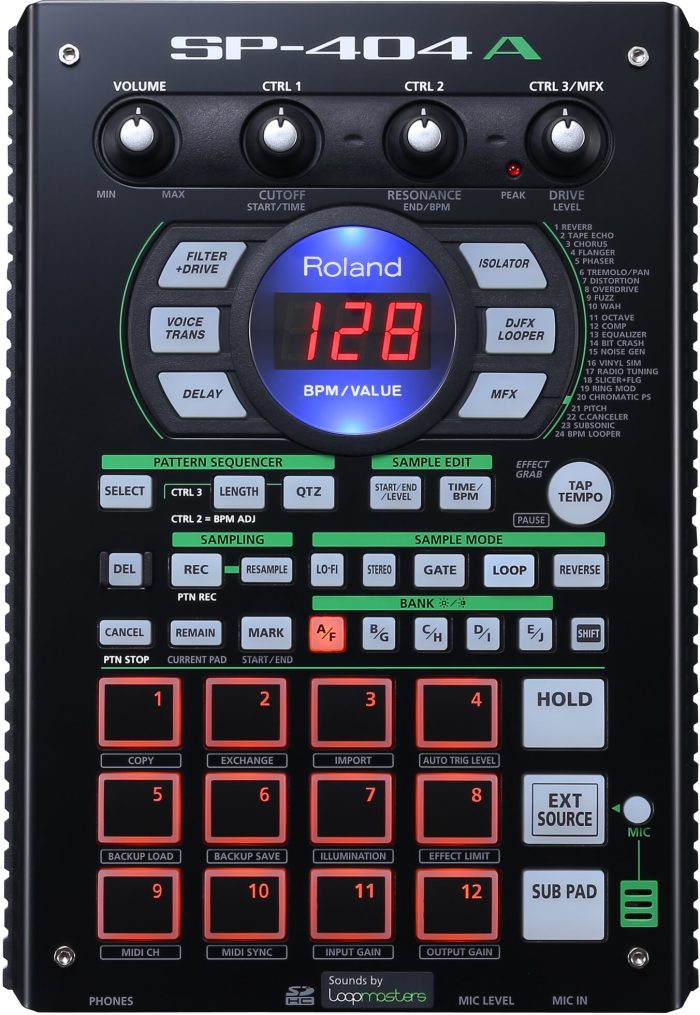 The SP-404A is based on Roland's popular SP-404SX, a longtime sampling favorite of DJs and music producers. All of the functions and features of the SP-404SX are contained in the SP-404A, including 16-bit linear sampling, 29 onboard DSP effects, smooth FX switching, 12 professional performance pads, and an onboard pattern sequencer.

The SP-404A can be triggered from the TR-8 Rhythm Performer via MIDI for integrated beat and sample production. Users can incorporate samples from the SP-404A and use them in conjunction with drum patterns, and each of the TR-8's 11 tracks can trigger a sample on the SP-404A, play a TR-8 sound, or both.

In addition, the TR-8 can be used as an audio sub-mixer and processor for the SP-404A. In this configuration, all samples played on the SP-404A can be effected using the TR-8's Scatter feature to reverse, glitch, gate, truncate, stutter, and perform all types of rhythmic variations in perfect sync. Samples can also be controlled by the TR-8's per-step Side Chain function for rhythmic ducking and gating effects.

To get users started with sample looping, the SP-404A comes with an SD card loaded with a library of new sounds created by Loopmasters, a leading sample developer. The samples in the library have been designed specifically to complement the TR-8, but also work well in standalone applications.
Pricing and availability TBA.
More information: Roland