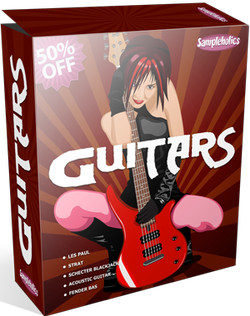 VST Buzz is offering a 50% discount on the Sampleholics Guitars sample library for Stylus RMX.
Sampleholics Guitars is an electric and acoustic guitar sample library (not loops) for Stylus RMX. The guitars sampled were a Gibson Les Paul, Fender Strat, Schecter Blackjack, a Fender Jazz bass and an acoustic guitar. So why RMX and not Kontakt? Because the built in amps in Stylus RMX are way better!

Sampleholics Guitars has a range of articulations including sustain, palm mute, major/minor chords and effects with plenty of amp/effect combinations, so you don't need to be a guitar expert to get a great tone and great sound. If you're writing music for TV, or on a tight deadline, these guitars are perfect – oh and did we mention they're only $19.50!"
Guitars for Styles RMX is available to purchase for $19.50 USD until December 17th, 2013 (regular $39 USD).
More information: VST Buzz