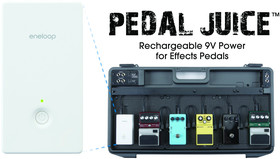 Sanyo has released Pedal Juice, a 9V DC Rechargeable Lithium-Ion Battery device developed to meet the needs of both professional and entry-level musicians.
One Pedal Juice battery can provide up to 50 hours of continuous, stable power for a single analog pedal or up to 20 hours of continuous power to three digital pedals. Because the eneloop 9V rechargeable lithium-ion battery eliminates the need for AC power, the output voltage is more stable for longer periods of time without the possibility of AC ground looping noise. The battery can be recharged hundreds of times, thereby eliminating the waste and inconvenience of disposable 9V alkaline batteries. With two DC outputs, Pedal Juice can power multiple devices including pedals, multi-effect units, and portable recorders. Pedal Juice provides portable battery power to a single pedal or can be used to power several pedals at the same time.
Pedal Juice features
9V Lithium-Ion battery featuring SANYO eneloop technology.
Up to 50 hours of continuous, quiet, clean, stable power – from the first note to the last.
Eliminates AC ground loops – so your tone comes through loud and clear.
Two 9V DC outputs – power multiple devices; pedals, multi-effect units, and portable recorders.
3-stage LED indicator – provides power level status.
Single on/off button – no need to unplug pedals.
Rechargeable hundreds of times – saves money and the environment.
Water and shock resistant – JIS IPX3 compliant water resistant enclosure.
Fully recharges in only 3.5 hours – via AC adaptor (included).
Same footprint as standard effects pedal (2.5" W x 4.7"D x 1.7"H).
Easy setup.
Pedal Juice is now available to purchase for $199.99 USD.
More information: Sanyo