Plugin Boutique has launched a sale on selected virtual instruments from Arturia, offering a 50% discount on some of the new additions in the V Collection 6 bundle.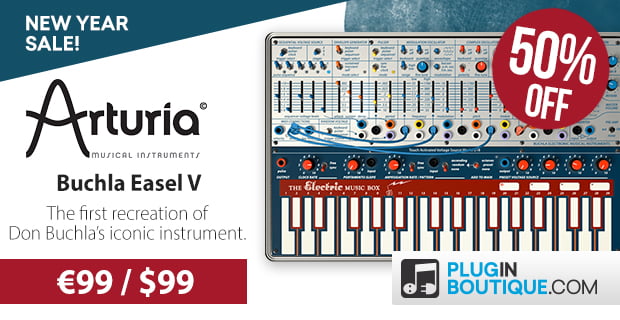 Buchla Easel V: The first recreation of Don Buchla's iconic instrument that helped define experimental West Coast modular synthesis in the early '70s. Arturia's enhancements translate to vastly expanded possibilities for sound design and avant-garde music.
DX7 V: The DX7 V accurately models the FM digital synthesizer that became synonymous with the sound of the '80s. Arturia's enhancements add more of everything to make the new DX7 V a sound for all time.
CMI V: A spot-on reincarnation of the first commercially available digital sampling system in music history—the sonic powerhouse behind numerous early MTV-era megahits. Arturia have also included new creative features that weren't possible back in the day.
Also on sale at 33% off is Analog Lab 3, a keyboard sound collection that gives you instant access to over 6,000 of the best designer sounds from the 21 authentic legendary keyboards.
The promotion ends February 1st, 2018.
More information: Plugin Boutique / Arturia