Plugin Boutique has announced a sale on the Multiplex Vocoder 2 by Digital Brain Instruments, offering a 60% discount on the standalone software developed for music production, live sets and audio post-production.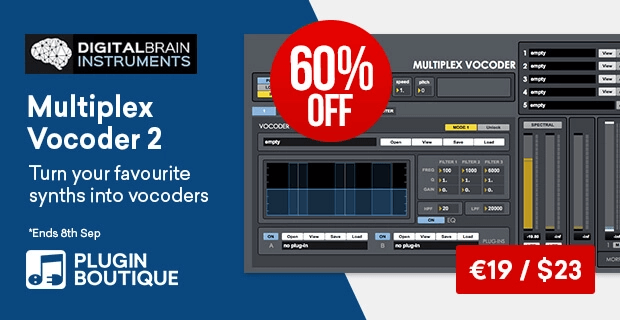 The software features four VST/AU vocoders and one audio sample vocoder where you can load any Virtual Instrument or audio file to be used as a vocoder carrier signal.
Multiplex Vocoder 2 features
Real-Time Audio Processing.
2 Microphone Inputs.
Audio Player Input: Play any file from your computer.
4 Plugin Instrument vocoders, 1 Audio Sample vocoder.
Process your input signal through 5 vocoders simultaneously.
Autokey.
Spectral Input Mixing: Select which range frequencies from each microphone input will feed the vocoders.
Input Sends Matrix: It allows using different vocoders for each input when using 2 or 3 inputs at same time.
Input Depending Mode: Each vocoder output will be activated or deactivated depending the input level, you can set the minimum threshold to activate or deactivate individually.
Master Rack & LFO: 3-band Parametric Equalizer, High & Low Pass Filters.
Dry/Wet Morphing: Cross-morphing between dry and wet signals.
Autokey: Play vocoders without a MIDI keyboard.
Dry/Wet Recording: WAV or AIFF files. Up to 192kHz / 32-bits (depending your soundcard). Simultaneously dry/wet signal recording mode available – Mono and Stereo.
Preset Manager.
Rec Me: A quick way to record and process your voice.
MIDI Matrix: Control Multiplex Vocoder via your MIDI device.
Input & Output Routing: Play and record audio from/to any DAW/Audio Editor using Soundflower, JackAudio and JK Pipe.
Rewire: Send stereo output or individual vocoder outputs to any DAW using rewire.
Multiplex Vocoder 2 for Windows and Mac is on sale for 19 EUR / $23 USD until September 1st, 2020.
More information: Digital Brain Instruments