The Loop Loft has launched a Memorial Day Weekend Sale, offering up to 90% off on packs & bundles.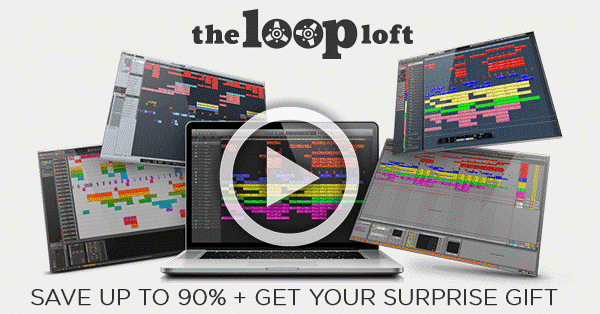 The Memorial Day Weekend Sale!

We're got six massive deals you don't want to miss this weekend. Plus, you'll receive a surprise gift (hint… it will make your speakers rumble in the best possible way) with any purchase. This gift will automatically be presented at checkout!
Memorial Day Weekend Sale
The Platinum Pack – from $99 USD (regular $1,193 USD)
The Loop Loft just went 8X platinum and now so can you! With over 8,000,000 kB (8.1 GB to be exact) of drum loops in our library, The Platinum Pack is a bundled collection featuring 38 of The Loop Loft's most popular loop and sample collections.
Matt Chamberlain Drums Vol 2 – from $19 USD (regular $79 USD)
In January we traveled back to Cyclops Studios in the legendary Sound City Complex to join forces once again with session drummer extraordinaire, Matt Chamberlain, this time focusing on capturing as many different drum sounds and grooves as humanly possible in the underbelly of Van Nuys. The result? Matt Chamberlain Drums Volume 2.
Drum Direktor CINEMATIK – $39 USD (regular $149 USD)
Are you ready to take cinematic drums to the next level? Introducing Drum Direktor CINEMATIK from The Loop Loft. A revolutionary loop player, step sequencer, drum pad player, effects unit and mixing station, designed for the creative producer.
Funk Meets Fusion – Multitrack Drums Session #2 – $6 USD (regular $15 USD)
What would it sound like if legendary funk drummer, Clyde Stubblefield (James Brown) joined a legendary fusion band like Weather Report, and they only performed in dance clubs where the tempo was regulated to 128 bpm? Well, we're not sure if such a bizarre/awesome union like this would ever occur, but if it did, the drums would probably sound a lot like our latest multitrack release, "Funk Meets Fusion".
Doug Wamble Guitar Bundle – from $43 USD (regular $159 USD)
We've bundled all four of our Doug Wamble Artist Series collections together, providing you with almost 2 GB of guitar loops at a 25% savings. Included in the bundle are the popular Jazz Blues & Soul, The Slide Guitar Collection, Acoustic Guitar and The Telecaster Sessions, supplying you with a vast range of Wamble's incredible guitar playing that touches on everything from blues, funk, jazz, soul, country and rock.
Rock Steady – from $11 USD (regular $34 USD)
Finally, drum loops that ROCK just as much as they ROLL. Culled from nine separate recording sessions and countless hours of tracking, Rock Steady Vol 1 boasts the widest range of rock drum grooves available in any individual loop pack. With everything from bombastic Bonham-esque back beats, Bun E Carlos-inspired power pop, low-fi indie rock and blister-inducing grooves that would make Dave Grohl proud, this is the ultimate in rock drum loops.
The sale ends Sunday May 29th, 2016, midnight EST.
More information: The Loop Loft / Memorial Day Weekend Sale