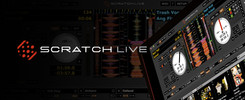 Serato Audio Research has announced the release of Scratch Live 2.0, a feature utopia for Scratch Live DJs, with something to appeal to all styles of DJing.
This is a cutting edge version of Scratch Live which contains many new features including: DJ FX, 3 decks for SL 3, Serato Playlists, Display Modes, Library Views, Smart Crates and much more.
New in Scratch Live 2.0
Support for three decks with the Rane SL 3.
Three chained DJ FX per deck with macro control for live performance.
Brand new Display Modes with a range of deck layouts to suit your performance style.
Enhanced Album Art browsing for quick identification of your music.
"Smart Crates" which auto-fill using keywords from your music library.
"Serato Playlists" enables sharing of your sets online – after your gig or as you play.
New File Management options allow you to easily copy crates and tracks to external drives for your gigs.
More details in the release notes.
Scratch Live 2.0 is available as a free download for PC and Mac.
More information: Serato / Scratch Live